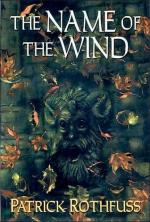 | GOODREADS | MY RATING: ♥ ♥ ♥ ♥|
Goodreads synopsis: Told in Kvothe's own voice, this is the tale of the magically gifted young man who grows to be the most notorious wizard his world has ever seen.
The intimate narrative of his childhood in a troupe of traveling players, his years spent as a near-feral orphan in a crime-ridden city, his daringly brazen yet successful bid to enter a legendary school of magic, and his life as a fugitive after the murder of a king form a gripping coming-of-age story unrivaled in recent literature.
A high-action story written with a poet's hand, The Name of the Wind is a masterpiece that will transport readers into the body and mind of a wizard.

My thoughts: First I want to say that I'm not a reader who reads much fantasy, especially high/epic fantasy and was somewhat concerned that I would not like the book due to the genre it belonged, but I actually found it not as high as I had foreseen. I would say it is a more of a softer kind of fantasy in my opinion. Assassin's apprentice by Robin Hobb, for an example, I see as a more heavier than this book. So I was quiet surprised. The second I want to comment is about the writing. O, MY, God what a great work of art this book is. The writing is so well done that it is almost like singing in my head. The flow is easy, wonderful and captivating. I have never read anything as smooth as this before in my life. It is truly a work of art and I do now understand now why it took Rothfuss so many years to write the book. And the third thing is, that I did not fall in love, as so many others have and that makes me really sad. Really, really sad!
I didn't get all those fuzzy feelings that so many others have from this book and it drives me crazy that I can't pinpoint exactly why. Because it is certainly not bad. Even far from it. But I had such trouble to stay connected with it. When I put the book down, I had trouble picking it up again. When I eventually did pick it up, I read page after page and had trouble putting it down. Do you see my dilemma here? It was like I loved the book while reading, but when I didn't I was ready to start something else. Something different. Something new. It did not put it's claws in me. And I do think the reason for it is because it was somewhat uneven in speed and plot. There were a lot of storytelling and happenings and I do see that them are vital to the story, but for me I think it bored me a little.
I'm however a little in love with the character Kvothe. Or almost all the characters really. Rothfuss has made a great job with building them to that high standard that they are. They all have their own quirks and you can actually feel them. Kvothe is an intelligent, quick-witted, sharp-tongued and clever character that, in this book, starts telling his story of how he became who he is for Devan, who is kind of a story collector. Kvothe tells the story about his child hood, his family and years on the road as an entertainer. He tells about his friends and how he came to be who he is. And there is a lot of characters in this story. But some stay with you a little extra than others. For like an example, Elodin who is hilarious or Ambrose, who is a HUGE dick by the way, and even though I hate him, I could not see the story without him. I was also not overly fond of Denna in the beginning. I found her shallow, cruel and kind of self-centered but she did grew on me later on, even though I cant say I love her now. I got to understand her better and find her a lot more complex than first thought. Then we have Bast. Oh I love him. And Devi. Okay, I loved most of the characters.
I did get the description that this book is "Like Harry Potter for adults." Well…. NO. The only thing I would be able to compare to the Harry Potter series is that Kvothe studies at a "magic" school, but it is not a magic, magic school. Hard to explain. But this is so far from Harry Potter you can come, and in some ways actually better but in others, not. What I can say though is that the book is complex beyond anything I have ever read and I think it is one of those who everybody should read.