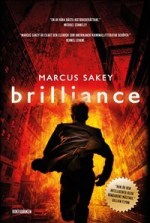 | GOODREADS | MY RATING: ♥|
Goodreads synopsis: In Wyoming, a little girl reads people's darkest secrets by the way they fold their arms. In New York, a man sensing patterns in the stock market racks up $300 billion. In Chicago, a woman can go invisible by being where no one is looking. They're called "brilliants," and since 1980, one percent of people have been born this way. Nick Cooper is among them; a federal agent, Cooper has gifts rendering him exceptional at hunting terrorists. His latest target may be the most dangerous man alive, a brilliant drenched in blood and intent on provoking civil war. But to catch him, Cooper will have to violate everything he believes in – and betray his own kind.

My thoughts: With its highly cliché content, generic story and with a complete lack of original ideas from the author, it is sad how this novel has been raised and praised in the bookish community. The original idea of it all is pretty cool and something I could love since I'm a total "superpower" buff. But this is just a lame version of x-men. Without the cool powers, the sexy suits and expensive toys. But still the corrupt governments, the terrorists, the two sides against each other and the family conflicts are the same story that we have been fed for like 20 years now.
It is even more sad how Sakey have focused more on the style of the book than the content itself. Written it "ready" for the movie business and it is almost like he wants to flip us off with a highly obscene gesture. I feel the book is written like a screenplay, ready for Hollywood, not the bookshelf's. It feels like he did not care about the book itself but only hoped on the possibility to get an Hollywood movie contract to bring in the money and fame. There is no real character development and the male protagonist is a boring, apathetic, grey guy with no real emotions and the total lack of self-confidence to use his own head.
I actually gave this book a two star rating at first but now after I have had the time to sleep on it and really think about the book, I feel that it is not fair, and lower it to a one star rating. Why you may ask? Well it is as simple as that the book did not give me anything. It was highly predictable and nothing surprised me. It was not funny nor exciting. I did not like the characters, the plot or the way it was written. This will probably be a movie in the future ( oh wait, it is actually already in development according to IMDB) and I'm not that interested to even see it. So that's that. Let's move one shall we?