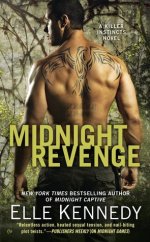 | GOODREADS | MY RATING: ♥ ♥ ♥ ♥|
Goodreads synopsis: Out of all the stone-cold mercenaries in Jim Morgan's black ops organization, Derek "D" Pratt is the most intimidating. He is tight-lipped and covered in tattoos, and even the other guys on his team are afraid to ask him about his past. D's been off the grid for years, but after his teammate Sullivan is mistakenly captured in his place, D is forced to come out of hiding and face his demons.
When D lands in Mexico, he's ready to risk everything to save his friend. To complicate matters, Sofia Amaro, a feisty doctor whom D had a one-night stand with months ago, has tracked him down. And in an instant she's unintentionally caught up in his life-threatening rescue mission.
Now D must extract not one but two people from the most violent world he's ever encountered. And one of them is carrying his child..

My thoughts: This is a damn good book. Pretty sure my heart stopped at least two times while reading this. Fast paced and action packed and I loved it. Not my favorite in the series however but a pretty close second, I must say. This series and Elle Kennedy is really starting to be one of my all time favorites. Her writing is so good and easy that just reading her words makes me feel god. Then we look a little deeper and reading her story and just like that I'm lost, in love and forgotten the world around me.
This book is about Derek "D" Pratt. An character who have been around for most of the series. He is a hard son of a bitch with a past darker than anyone can imagine. I didn't like him at all the earlier books, but I do now understand why. It took me a while to really connect with him, but then I had Sofia. She is a wonderful character with just the right amount of umpf, stubbornness, quirkiness and she has a really smart head on her shoulders. There is no way you do not like her. I really liked that there was no love at first sight, no lost love or heartache in the beginning of the book between those two. I liked that they "knew" each other beforehand but the lack of sappy, fluffy love made it more believable and the suspense unbearable.
Then it is always nice to meet the characters from the earlier books. Book number 6 ended on a small cliffhanger and this one gives you all the answers you need about what happened. It's not completely over and done with but I would not say that there are a cliffhanger so you can rest easily.
Kennedy do like to create tension in her plots and between her characters and I think it is the way she does it that makes it so good. She is always balancing on the edge and if you have not read this series, I do have to say "what, you have not read it? You just have to read it!!" 😉