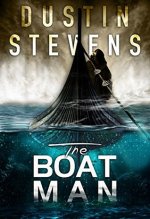 | GOODREADS | MY RATING: ♥ ♥ ♥|
Goodreads synopsis: Detective Reed Mattox, just three months removed from the death of his partner, has turned invisibility into an art form. Switching to the K-9, taking over the graveyard shift, moving to a farmhouse miles outside of Columbus, his every move has become predicated on putting as much distance between himself and the outside world as possible.
That distance is shattered though when bodies begin turning up in The Bottoms, the poverty-stricken section of town he is assigned to patrol. Grisly, horrific scenes start to pop up in the middle of the night and the overburdened precinct has no choice but to put Reed on it.
Now operating far outside of his comfort zone with a Belgian Malinois for a partner that attracts attention wherever they go, Reed is forced to unravel the murders, taking him clear across the city and back years in time, to an event that some very influential people will do anything to keep buried…

My thoughts: Flat revenge story in a mediocre beginning on a new series, more suitable for TV. That is how I would, in few words, describe The Boat man by Dustin Stevens. It is in no way a bad book really. But I cant say that it is overly good either. It is in between good and bad. An okay story with some issues when it comes to the writing but still okay. I did like it. But I have to many issues to love it or to feel the desire to continue.
First of I did feel that the beginning was pretty strong. Reed is more or less a depressed character, working with a dog because he cant stomach to have a human partner again. You do not get to know exactly what happened but you get enough clues to pretty much piece it together yourself. Mistake number one. I don't like that kind of mystery and secrecy where you have to figure it out on your own kind of way, when it is such a huge part of the history and the future of the characters. And then in the end you do not know more than you did in the beginning. But perhaps Stevens has a ulterior motive with it, what do I know. I'm just a reader. Mistake number two I feel is how flat the book is. I'm not kidding when I say that I actually fell asleep 8 o'clock one evening (usually fall asleep around 11 – 12) because of the writing. It is quite flat and boring. And he keep repeating the names. Reed did that, then Reed went there so Reed could do that while Reed felt that and knew Reed had to get home so Reed could do that later. Then there was the boat man went there, the boat man did that, the boat man felt that, the boat man run away. Goddammit it drove me nuts.
But other than that, it is a good book. The plot is interesting, believable and has a little suspense and depth. It is probably me who is to sensitive and keep finding stuff to complain about. He has a lot of books and most of them has really high ratings, so apparently there are people who like it more than I do. Unfortunately, I just don't feel Stevens is the author for me. A three star rating yes, but not strong enough to make me want to continue the series.