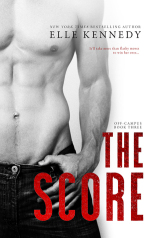 | GOODREADS | MY RATING: ♥ ♥ ♥ ♥ ♥|
Goodreads synopsis: He knows how to score, on and off the ice
Allie Hayes is in crisis mode. With graduation looming, she still doesn't have the first clue about what she's going to do after college. To make matters worse, she's nursing a broken heart thanks to the end of her longtime relationship. Wild rebound sex is definitely not the solution to her problems, but gorgeous hockey star Dean Di Laurentis is impossible to resist. Just once, though, because even if her future is uncertain, it sure as heck won't include the king of one-night stands.
It'll take more than flashy moves to win her over
Dean always gets what he wants. Girls, grades, girls, recognition, girls…he's a ladies man, all right, and he's yet to meet a woman who's immune to his charms. Until Allie. For one night, the feisty blonde rocked his entire world—and now she wants to be friends? Nope. It's not over until he says it's over. Dean is in full-on pursuit, but when life-rocking changes strike, he starts to wonder if maybe it's time to stop focusing on scoring…and shoot for love.

My thoughts: I'm freaking love this series. Every book is about a hockey player in a collage team. They are cocky, funny, insanely hot and really great guys with a moral compass pointing in the right direction. I loved the first book (yes you should read them in order) and I almost loved the second book as much. But this third one. O my gosh. I think it is my favorite so far and I'm in love with both Dean and Allie.
Dean is that cocky son of a bitch, who circling around the main characters from the first couple of books. You do get to know him some and you really do not know if you are to love or hate him. He is a strong character with an open mind and easy going, natural, rich boy way of living. Not in an obnoxious way though which make me love him even more. Allie is this great, strong, funny character who is down to earth. I love how their relationship starts of as a "accident" and how grownup they are about everything. How the relationship and the feelings grow in a good, slow, realistic way and it made me not be able to stop reading. I love the bumps in the road and how it all worked out. I love the underlining meaning with the book. I love every freaking thing about it. I'm not kidding.
There is not often I feel this way about a book. In a way where I seriously can't stop raving about it. So i'm gonna stop here. Now! Just want to say that this is a great book, and a even greater series by a talented author and if you never read this or anything by Kennedy before, I highly, with my whole heart recommend it.
Oh, and it ended in a way that I just have to read the forth book. Not cliffhanger per say, but I seriously need to know.  To bad I'm on a "buy books" ban. I need to read down my TBR before I buy anymore books. According to my calculations, this will not be able until after new years. Yeah, that is how many books I own and need to read. Will I be able to wait?