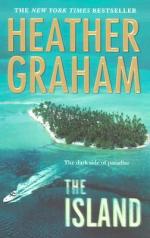 | GOODREADS | MY RATING: ♥ ♥ ♥|
Goodreads synopsis: On a weekend vacation Beth Anderson is unnerved when a stroll on the beach reveals what appears to be a skull. As a stranger approaches, Beth panics and covers the evidence. But when she later returns to the beach, the skull is gone.
Determined to find solid evidence to bring to the police, Beth digs deeper into the mystery of the skull and everywhere she goes, Keith Henson, the stranger from the beach, seems to appear. He claims to be keeping an eye on her safety, but Beth senses other motives. Then a body washes ashore, and Beth begins to think she needs more help than she bargained for. Because investigating is a dangerous game, and someone wants to stop Beth from playing. "

My thoughts: If one can get past the fact that the suspense plot is predictable and the characters are morons, it is an okay, light read. Nothing overly exciting but a good, fluffy book who got the job done. I wanted something like it and i'm happy that I did get just that. Even though I can't call it a literary wonder-work.
I do like mystery/suspense romances and the idea of the book was good and believable. There is some strong parts and in the beginning I did really like Beth and disliked Amber. But later on in the book I really started to dislike Beth and like Amber instead. Then I did really hate/love the character Amanda and she surprised me through out the book. I had not expected it but I did predict the ending. And I did miss some more depth between Beth and Keith. There was certainly a lot more to build on in my opinion and the last 10% pages was boring and nothing new.
I like the book as one of those fussy, easy time passers with light plots and characters. Do not often find them great but they get the work done. Which is keeping my mind occupied, be interesting enough to feed me another book in the line of many and keep me company when i need it. Sometimes my brain just need something easy and predictable. Something warm and easy to connect to.