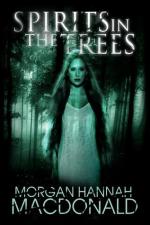 | GOODREADS | MY RATING: ♥ ♥ ♥|
Goodreads synopsis: EVIL DOES EXIST
An abandoned house, a serial killer, and a victim reaching out from the grave. A woman races against time to unearth buried secrets before she becomes a ghost herself.
YOU ARE NOT ALONE
Madeline Anderson goes to Isabelle Island, Washington, to sell a family home abandoned over forty years before. Strange things occur the moment she steps on the property. Inside the dilapidated old house, items move about on their own accord. Noises come from empty rooms. She has a vivid, recurring dream of a woman running for her life. The wind rustling through the trees sounds like urgent, murmuring voices. When the cacophony dies down, one single word emerges: Madeline, Madeline, Madeline.
YOU CAN NOT HIDE
At first, Doug Lindstrom, the hot fireman helping Maddy restore the old home, doesn't believe anything bizarre is going on. He's certain Maddy is jumping at shadows because the local kids call the house haunted. That is until he witnesses horrific violence he can't explain. After Maddy's life is threatened not once, but twice, Doug vows there will not be a third time.
THEY ARE WATCHING
While searching for answers, Maddy uncovers astonishing secrets about her aunt's past. Finding more questions then answers, she digs deeper until she stumbles across evidence of a cold case involving a serial killer named The Seaside Strangler. Now Maddy must unmask the killer. The life she saves just might be their own.

My thoughts: What I wanted and expected was some spine chilling horror/mystery. What I got was a silly love story in a hunted house and some confusion.
How shall I review this book? Well for starter, the writing did not work that well for me. It was somewhat confusing in the way that the author probably forgot to mention some details to make some other details later on make sense. And some stuff was only mention once or twice. This infuriates me. Do not include something huge in the story, and then just ignore it later on. A violation will not that easily be forgotten. And to not mention it again will just make it sham and frivolous.
I did however like the idea of the story. The hunted house, the family mystery's, the 50 year old crimes, the island, the sickness and all that. Not so much the violations and there really should be a trigger warning on this book. Because there are some graphically described chapters from different point of views and I would have liked to be warned. But on the other hand, if I knew, it could have been a reason for me to not read it at all.
The characters are the usual ones. The great hero and the broken heroine on the way back to life. Somewhat shallow but still readable. I did like it. But if I remember correctly, I had the same writing problem with one of the other books I have read by McDonald. So even though it is a good story, I do see a pattern and maybe this is not an author for me.