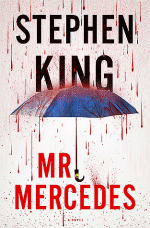 | GOODREADS | MY RATING: ♥ ♥ ♥ ♥|
Goodreads synopsis: In the frigid pre-dawn hours, in a distressed Midwestern city, desperate unemployed folks are lined up for a spot at a job fair. Without warning, a lone driver plows through the crowd in a stolen Mercedes, running over the innocent, backing up, and charging again. Eight people are killed; fifteen are wounded. The killer escapes.
In another part of town, months later, a retired cop named Bill Hodges is still haunted by the unsolved crime. When he gets a crazed letter from someone who self-identifies as the "perk" and threatens an even more diabolical attack, Hodges wakes up from his depressed and vacant retirement, hell-bent on preventing another tragedy.
Brady Hartsfield lives with his alcoholic mother in the house where he was born. He loved the feel of death under the wheels of the Mercedes, and he wants that rush again. Only Bill Hodges, with two new, unusual allies, can apprehend the killer before he strikes again. And they have no time to lose, because Brady's next mission, if it succeeds, will kill or maim thousands.
Mr. Mercedes is a war between good and evil, from the master of suspense whose insight into the mind of this obsessed, insane killer is chilling and unforgettable.

My thoughts: In this rich, high-suspense race against time, written by the King of horror himself, you will find the most unexpected heroes and the most expected and unpleasant evil. Is the book perfect? Oh no. Far from it. Did I go all fan-girl over it? Yepp, totally did!
As usual you find a book with deep characters, complex story and layer on layer of that deep chill, mind-blowing mystery not that many authors (I have read) manage to create. I'm somewhat hard to impress when it comes to the horror genre. And even tough I would categorize this one more of a crime mystery than horror, i'm totally impressed. I got what I came for.
As an avid reader in the crime mystery genre I do often feel i'm hard to surprise and story's often are predictable to me. I don't have a problem with predictability per say, if it is done well. And as usual I would not have to expect anything less than well from King. There is some real unexpected twists and a ending I really cant get mad over. I liked the cat and mouse play they had going on. The communication, the inspiration and the war. Who shall win in the end?
The only thing I did not like with the book however, is that some part of it, it was to slow. Specially in the ending where you pretty much goes around waiting for something to happen. I get that King probably wrote it that way to make it more realistic. But it kind of bored me a little. However, King saved it with the end.
There is two other books in the series about Bill Hodges and I certainly need to read those two. And there is a TV-series on this first book, en I certainly need to see that one to. Yeah, i'm totally star-struck by this book. That is how good it is.