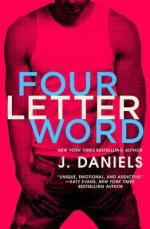 | GOODREADS | MY RATING: ♥ ♥ ♥|
Goodreads synopsis: Fate. Hate. Love. Lies.
Which four letter word will change their lives forever?
Sydney Paige was never so mortified to hear the words "wrong number" in her life. She meant to tell off the guy who broke her best friend's heart but unleashed her anger on a perfect stranger instead. And now her world is turned upside down by the captivating man who wants to keep her on the line.
Brian Savage is living a life he's quickly come to hate-until Sydney's wild rant has him hooked and hungry for more. Soon the sexy woman on the phone becomes the lover in his bed. But Brian has secrets, and the closer he lets Syd get, the harder it is to shield her from the devastating mistakes of his past . . .

My thoughts: Cute story. Great build up and sweet characters, a little long and slow some parts and somewhat predictable but cute non the less. I wouldn't say I love it but can't say I hate it either. Until like 50% in the book I really enjoyed it. I adored the sexual tension banter between some of the main characters, the easy atmosphere and the interesting sensation it created. There is some depth to the story and layers to the characters that I found intriguing to peal of.
After the 50% however the pace started to halter and nothing really happened. One could anticipate what would happened and how it would go and it was kind of boring, reading + 100 pages and just waiting for it to kick off so something would change the mush that kept going on and on. Nothing surprising in the whole ordeal when it finally happened, but it was still nice and I liked the way they resolved the situation.
A little part in the end surprised me though and it was nothing I had foreseen. I feel it matched the plot perfectly and I would probably not have found the book as great without it. It gave some of the soul back to it.
The writing is somewhat long and not easy for the eye, but nothing I thought much about after I got used to it. It did however make it a little harder for me to connect with the book in the beginning and may be a reason for the slowness in the middle of the book.