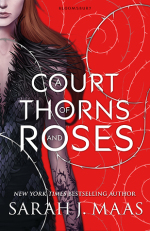 | GOODREADS | MY RATING: ♥ ♥ ♥ ♥|
Goodreads synopsis: Feyre is a huntress.
She thinks nothing of slaughtering a wolf to capture its prey. But, like all mortals, she fears what lingers mercilessly beyond the forest. And she will learn that taking the life of a magical creature comes at a high price…
Imprisoned in an enchanted court in her enemy's kingdom, Feyre is free to roam but forbidden to escape. Her captor's body bears the scars of fighting, and his face is always masked – but his piercing stare draws her ever closer. As Feyre's feeling for Tamlin begin to burn through every warning she's been told about his kind, an ancient, wicked shadow grows.
Feyre must find a way to break a spell, or lose her heart forever.

My thoughts: How am I supposed to review this one? This… this fantastic, unbelievable imaginative, angst riddled and intense product, written by a queen. A book who rips, ravages and breaks you into a million pieces before it reassembles you at the end. But you as a human will never be the same. It changes you and the view I once had are long gone and forgotten. I am and for ever will be a different person after this. That is how good it was, with such an impact that it even was hard to read on sometimes. I have heard that the second book is even worse, with more tears, more pain… just more of everything. And I can't wait to read it.
A court of thorns and roses or ACOTAR, was a major hype a few years back. Everyone I knew and followed on YouTube, Instagram and in the groups on Facebook could not stop talking about it. The synopsis never intrigued me back then and even when I started it, I was still a bit skeptical. I often have problems with YA and often find YA Fantasy to be overrated and without any real depth and almost always has that stupid love triangle drama that I hate with every fiber of my body.
So why did I read it? Well I just wanted something new and unpredictable and I wanted it directly. Meaning, I didn't want to order online and wait several days for it to arrive and I didn't want a e-book either. I wanted something real. This one was the only book my local bookstore had on English that remotely interested me. And I'm so glad that I bought it.
The only (two) problem I have with the book is the pace. It was to slow but still had that simmering feeling that something will soon happen, then it didn't and it drove me nuts. And some things was not explained enough. I do not read that much fantasy and would have liked a little more explanation on some things. But other than that, I'm happy.