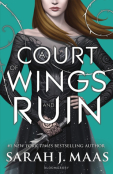 | GOODREADS | MY RATING: ♥ ♥ ♥ ♥|
Goodreads synopsis: Feyre has returned to the Spring Court, determined to gather information on Tamlin's maneuverings and the invading king threatening to bring Prythian to its knees. But to do so she must play a deadly game of deceit – and one slip may spell doom not only for Feyre, but for her world as well.
As war bears down upon them all, Feyre must decide who to trust amongst the dazzling and lethal High Lords – and hunt for allies in unexpected places.
In this thrilling third book in the #1 New York Times bestselling series from Sarah J. Maas, the earth will be painted red as mighty armies grapple for power over the one thing that could destroy them all.

My thoughts: I have gone on a total Sarah J. Maas binge and did finish the third book last Friday. This was such a great series. I still have A court of frost and starlight to read and there is rumoured to be released at least 3 more books but I don't have much more information than that to give. I do believe that the next books to come is about some of the biggest characters around the main ones, judging by how this one ended. And it did end in a satisfying way in my opinion.
I didn't find it to be just as good as the second one and a little lower than the first one. Still a solid four in rating. I think it is the wars fault. The book is a lot darker in every aspect than the first two books and there was some long patches with not that much happening. The war was a huge and overwhelming plot which frustrated and didn't quite make sense some of the times. The worst part was that after 300 + pages about the war, it was just boring. Well, at least until I had like 100 pages left of the book. Then the shit hit the fan and I constantly worried that it would end badly. But what a ride.
I really like Maas way or writing. It is easy on the eyes, simple to understand and doesn't make a book on 700 pages seem long and overwhelming. However I do have to say that I did find her way of using the words this time somewhat repetitive. Like the words mate and dream kept being mentioned all the time. I actually read a review where a reader had counted how many times the word "mate" is mentioned in the book and if I do recall correctly it is over 200 times. I do agree that, that is to excessive use of the word. But other than that, the writing is as I'm now associates with a book by Maas.
To judge this book and this series in one way I would have to say that this is the best series I have read so far this year and would highly recommend for everyone who has not yet read it.