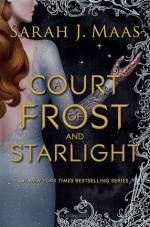 | GOODREADS | MY RATING: ♥ ♥ ♥ ♥ ♥|
Goodreads synopsis: Hope warms the coldest night.
Feyre, Rhys, and their close-knit circle of friends are still busy rebuilding the Night Court and the vastly-changed world beyond. But Winter Solstice is finally near, and with it, a hard-earned reprieve.
Yet even the festive atmosphere can't keep the shadows of the past from looming. As Feyre navigates her first Winter Solstice as High Lady, she finds that those dearest to her have more wounds than she anticipated–scars that will have far-reaching impact on the future of their Court.

My thoughts: Can you love a couple of characters as much as I love Feyre and Rhysand? O my god how wonderful they are. This is the book about just after the war. Wounds need to heal and order need to be restored. It is powerful, wonderful, happy yet so sad that it breaks your heart. And it gives you a sneak peek on what will come in the future. Because yes, there will be more books in the Court of Thorns and Roses series and o my, I can hardly wait.
It is as good as you would expect. The writing is still the same and Maas is still the queen. I wouldn't say that the book is especially exciting or anything like that. Not really that much happen, but it is a closure for the old and a beginning for something new. Perfect little middle book while you are waiting for the next one. Oh I hope it comes soon.
This is so far the best series I have read this year. Yes it is that good. All of the books. Two received five star and two received four star. Wish to read more? Her you have my other review.
A court of thorns and roses
A court of mist and fury
A court of wings and ruin