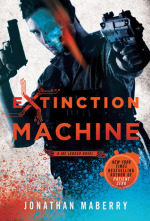 | GOODREADS | MY RATING: ♥ ♥ ♥|
Goodreads synopsis: The President of the United States vanishes from the White House.
A top-secret prototype stealth fighter is destroyed during a test flight. Witnesses on the ground say that it was shot down by a craft that immediately vanished at impossible speeds.
All over the world reports of UFOs are increasing at an alarming rate.
And in a remote fossil dig in China dinosaur hunters have found something that is definitely not of this earth. There are rumors of alien-human hybrids living among us.
Joe Ledger and the Department of Military Sciences rush headlong into the heat of the world's strangest and deadliest arms race, because the global race to recover and retro-engineer alien technologies has just hit a snag. Someone—or something–wants that technology back.

My thoughts: This is probably the book I like least of the five in the series I have read so far. I love the Joe Ledger character and I love how action packed the books usually are  and I love Maberrys talent with building characters and plots. This time however it just didn't work for me. There was no less action and I did really like the UFO and Alien twist, but there was so much talk and explanations and scientific facts that it totally lost me. I got bored to put it simple and then it was hard for me to come back.  If this not was a Ledger book, written by one of my favourite authors, I would probably have ended it long before the last page. It was dull between the fights and no real suspense. The Alien twist was accepted to easy and made the story seem unreal. Almost like a dream and I felt detached from the characters and the story itself.
One of the things I did like is how more "mushy" it is than normal. If you have read this far in the series you know of all the bad sh*t that has happened to Joe, his team, his family and all of DMS. After book two I actually thought that there never would be more happiness. And quite happy with that thought since Maberry totally crushed my heart in the end of book two. And beware, Maberry can do it again. Please don't. But now it feels lighter and even a little funny and I did like it. I hope it stays in the series.
So over all I give this a week three star rating. Probably deserves two due to my lack of interest in the science mumble jumble, but I give it a three since it is Ledger and Maberry and I did like some of it.