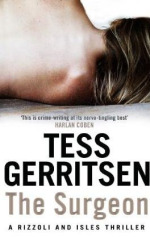 | GOODREADS | MY RATING: ♥ ♥ ♥ ♥|
Goodreads synopsis: IN BOSTON, THERE'S A KILLER ON THE LOOSE…
A killer who targets lone women, who breaks into their apartments and performs terrifying ritualistic acts of torture on them before finishing them off. His surgical skills lead police to suspect he is a physician – a physician who, instead of saving lives, takes them.
But as homicide detective Thomas Moore and his partner Jane Rizzoli begin their investigation, they make a startling discovery. Closely linked to these killings is Catherine Cordell, a beautiful doctor with a mysterious past. Two years ago she was subjected to a horrifying rape and shot her attacker dead.
Now the man she believes she killed seems to be stalking her once again, and this time he knows exactly where to find her…

My thoughts:This is a reread and I read this book for the first time back in 2002 (somewhere) and remembered it as one of my favourites back then. So of course I had to read it again when I got the chance. Now as an adult I did actually find it as good as I remembered. I did not however remembered it to be as disgusting and graphic as it was, especially when they were talking about the rapes. Or maybe I'm more sensitive to those things now as an adult woman than  I was as a young teenager.
Anyhow, it was really good. I liked the suspense and the story's development, the characters and the writing. I did however missed Isles. I have of course seen the TV-series based on the book series and I actually thought Maura Isles was in the book series from the start. But she is not in this one. And according to my survey, she doesn't  appear until book three (except for a small sneak peek in book two). And then it seems like she doesn't have a roll in every book. How can you then call this A Rizzoli and Isles series when Isles not even makes an appearance in every book. Maybe I'm overreacting but she is my favourite character and I would like to know if she is as funny and lovable as she is in the TV series. Did get an awakening when it comes to Rizzoli to be honest. Did not like her as much but I do think there is more to the character that will be revealed later on in the series. I have not read more than this first book. But I certainly plan to.