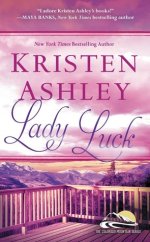 | GOODREADS | MY RATING: ♥ ♥ ♥ ♥ ♥|
Goodreads synopsis: Is love in the cards?
Since birth, Lexie Berry has had nothing but bad luck. Orphaned at an early age, she had a rough childhood and a boyfriend who was murdered. Now the beautiful, stylish Lexie is determined to change her luck and her life. But first she's got to make good on a promise: to pick up Ty Walker from prison. One look at the gorgeous ex-convict and Lexie knows she's in trouble-and already thinking about taking a walk on the wild side . . .
For five years, Ty was imprisoned for a crime he didn't commit. Now he wants revenge on the people who framed him. Yet when the high-stakes poker player sees the leggy Lexie, he suddenly has other desires on his mind. Realizing that Ty is innocent, Lexie tries to stop his plan for vengeance and help him become a better man. But as Ty battles his inner demons, dirty cops and criminals plot to take him out. Can he and Lexie find a way to escape the past?

My thoughts: I love, love, LOVED it. It is so incredible that I do not know how I will be able to put it into words.
I can't understand how Kirsten Ashley keeps spit out fantastic books with wonderful characters without it ever being boring. I'm serious! Not once in it was I feeling bored. I should have. It is 500+ pages with a lot of things happening, a lot of characters and a lot of details. But no, never and it was amazing.
I love Lexie and how goofy she is. She made me smile more times than I can count and was genuinely funny. KA did an astonishing work with her and she is (on top of mind) my favorite female character so far. And Ty is just that brilliant, hard, grumpy mountain man but it didn't took long for Lexies goofiness to bring out that warm, sticky core you just know is there because, come on, it is a KA book after all.
The storyline and plot fits perfectly with the history of the characters and nicely in with the previous books. It is some suspense, a lot of romance and a real feel good book. It is such a winner and one of those "You just have to read it". It is an emotional roller coaster but it is so worth it in the end.