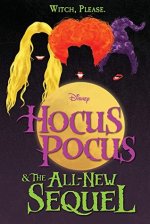 | GOODREADS | MY RATING: ♥ ♥|
Goodreads synopsis: Hocus Pocus is beloved by Halloween enthusiasts all over the world. Diving once more into the world of witches, this electrifying two-part young adult novel, released on the twenty-fifth anniversary of the 1993 film, marks a new era of Hocus Pocus. Fans will be spellbound by a fresh retelling of the original film, followed by the all-new sequel that continues the story with the next generation of Salem teens.
Shortly after moving from California to Salem, Massachusetts, Max Dennison finds himself in hot water when he accidentally releases a coven of witches, the Sanderson sisters, from the afterlife. Max, his sister, and his new friends (human and otherwise) must find a way to stop the witches from carrying out their evil plan and remaining on earth to torment Salem for all eternity.
Twenty-five years later, Max and Allison's seventeen-year-old daughter, Poppy, finds herself face-to-face with the Sanderson sisters in all their sinister glory. When Halloween celebrations don't quite go as planned, it's a race against time as Poppy and her friends fight to save her family and all of Salem from the witches' latest death-defying scheme.

My thoughts: I really did not enjoy this book. Hocus Pocus is such a cult movie, a movie I watch every October, every year since I was a child. I never miss it and I loved the idea of a continuing. Bought it last summer but saved it just so I could read it in October. Such a mistake.
While the novelization of the movie is pretty good, the All-New Sequel should never have been written. I found the author was trying too hard to connect it with the first book with both details and happenings but nothing new. It is the same but different. Let's take some small examples.
Instead of a cat, there is a dog.
The witches loses their brooms, again!
Again they use vacuum cleaners.Again it is the "rule the world" mentality.
Again it is circulating around one place. Just not the cemetery this time.
The humour (which I loved in the movie/book) are lame and forced. Not funny at all.
Instead of Zombies, there is ghost. But still the same thing.
I could keep going but I'm afraid we will go into spoilers so I will end here. The author tried too hard to include the 21- century in the story that it was just, overrated and not functional. And the worst part of it all is that the final act of the story just goes on and on and on. I actually fell asleep several times reading it. But I would not give up. It took me embarrassing long time to read it but I had to.
And to top it all, The book ends on a completely unnecessary cliffhanger. Come ON! That just makes me mad.
Final conclusion!
Oh Disney. I was so, so happy when I found out about the book. But it didn't work for me. This was not what I wanted. It probably would have been better as a movie. One thing is for sure. The world of Hocus Pocus deserves so much more.