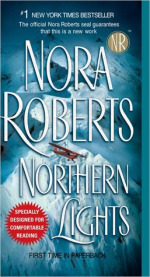 | GOODREADS | MY RATING: Reread|
Goodreads synopsis: The town of Lunacy, Alaska, was Nate Burke's last chance. As a Baltimore cop, he'd watched his partner die on the street – and the guilt still haunts him. With nowhere else to go, he accepts the job as chief of police in this tiny, remote Alaskan town. Aside from sorting out a run-in between a couple of motor vehicles and a moose, he finds his first few weeks on the job are relatively quiet. But just as he wonders whether this has been all a big mistake, an unexpected kiss on New Year's Eve under the brilliant Northern Lights of the Alaskan sky lifts his spirits and convinces him to stay just a little longer.
Meg Galloway, born and raised in Lunacy, is used to being alone. She was a young girl when her father disappeared, and she has learned to be independent, flying her small plane, living on the outskirts of town with just her huskies for company. After her New Year's kiss with the chief of police, she allows herself to give in to passion – while remaining determined to keep things as simple as possible. But there's something about Nate's sad eyes that gets under her skin and warms her frozen heart.
And now, things in Lunacy are heating up. Years ago, on one of the majestic mountains shadowing the town, a crime occurred that is unsolved to this day – and Nate suspects that a killer still walks the snowy streets. His investigation will unearth the secrets and suspicions that lurk beneath the placid surface, as well as bring out the big-city survival instincts that made him a cop in the first place. And his discovery will threaten the new life – and the new love – that he has finally found for himself.

My thoughts: First time I read this one I was shy of 18 years old and I totally loved it. I only remembered warm things about it so when I had to read a bestseller from 2004 I landed on this one. Yeah I could have selected The Da Vinci code instead but then I had to read Angels and Demons first (Yes my OCD says so) and I didn't want to read it. Seen the movie to many times. So I settled on a reread.
It was fun a read. First time I gave it a full five star rating. I will stand by that rating but if I would have read it now in my age and experience I would have probably given it a four. Mostly because I can't stand Meg. I did not remember her as that and it surprised me how much I dislike her now. I do however really like that the book is for Nate's point of view. There is not that often a whole book in this genre is only from the guys view and I liked it. Perhaps because I'm an avid reader in the genre and it is mostly the female you follow I found it refreshing. And I did really like Nate and the struggles he had to come to terms with life and himself. I'm happy with my choice. 🙂