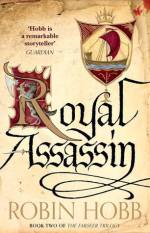 | GOODREADS | MY RATING: ♥ ♥ ♥ ♥|
Goodreads synopsis: Fitz has survived his first hazardous mission as king's assassin, but is left little more than a cripple. Battered and bitter, he vows to abandon his oath to King Shrewd, remaining in the distant mountains. But love and events of terrible urgency draw him back to the court at Buckkeep, and into the deadly intrigues of the royal family.
Renewing their vicious attacks on the coast, the Red-Ship Raiders leave burned-out villages and demented victims in their wake. The kingdom is also under assault from within, as treachery threatens the throne of the ailing king. In this time of great danger, the fate of the kingdom may rest in Fitz's hands—and his role in its salvation may require the ultimate sacrifice.

My thoughts: Oh my! Fitz does really feel sorry for himself. That was probably my biggest problem with the book. Yes it is easy to forget how young Fitz is supposed to be and yet it was so annoying that I didn't even want to read on. It makes me so conflicted. I loved the beginning and the end but all that stuff in the middle is just mud. Nothing major or big really happens and it is such a character driven story that 50 pages can have been read but nothing substantially had happen. However that is what in the end make it so great so overall I do like the book.
I did struggle more with this one than I did with the first. A lot because of the writing. This is high/epic fantasy for adults and it is such a slow burn that when you read page after page without any action and no breaks between the sections, it is hard on the head. Well at least for me. Hobb certainly has an unique way of writing. Hard but still great writing that gets you involved regardless of the challenges it contains. It is powerful, deeply imaginative and beautifully constructed. A real work of art. You get emotional invested and when all that stuff is happening and Fitz stands in the middle of it you can't stop thinking about the book.
It certainly is a great story with a highly imaginative and deeply written plot where characters became friends and enemies. It ended unexpectedly and I do believe that the third book will be a great ride in this roller coaster called Fitz Life.