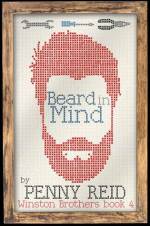 | GOODREADS | MY RATING: ♥ ♥ ♥ ♥|
Goodreads synopsis: All is fair in love and auto maintenance.
Beau Winston is the nicest, most accommodating guy in the world. Usually.
Handsome as the devil and twice as charismatic, Beau lives a charmed life as everyone's favorite Winston Brother. But since his twin decided to leave town, and his other brother hired a stunning human-porcupine hybrid as a replacement mechanic for their auto shop, Beau Winston's charmed life has gone to hell in a handbasket.
Shelly Sullivan is not nice and is never accommodating. Ever.
She mumbles to herself, but won't respond when asked a question. She glares at everyone, especially babies. She won't shake hands with or touch another person, but has no problems cuddling with a dog. And her damn parrot speaks only in curse words. Beau wants her gone. He wants her out of his auto shop, out of Tennessee, and out of his life.
The only problem is, learning why this porcupine wears her coat of spikes opens a Pandora's box of complexity—exquisite, tempting, heartbreaking complexity—and Beau Winston soon discovers being nice and accommodating might mean losing what matters most.

My thoughts: Penny Reid is still in the top five, favorite female authors, after this wonderful gem of a book. God damn she is a good writer! She writes such funny, heart-warming, sad, happy and lovable stories that I have no words left to describe it. It is just pure enjoyment to read her books.
The series about the Winston brothers is funny and light but often has one thing that is more of a serious note in it. Reid mix it well and makes it such a part of the story that it is so significant to the whole of the plot. One book has more focus on oppression, another has on hate and malice and this one has sickness and unprocessed feelings. It makes you think and for me personally I do recognize myself so much in Shelly. And Reid has done a wonderful job with writing about something as hard as OCD. Shelly is such a unique person and I love the way she has been written. It is in a way that you do not like her at first but love her at the end.
Beau is just beautiful. I love how the most of the book is from Beau's point of view and about his feelings. It is like he is the girl but it is so much more rational but still not. It is wonderfully refreshing to read a book mostly from a guy's point of view and the small chapters from Shelly was enough for me.
However I do have one small problem with the book. And that is that somethings do not feel finished or has a satisfying ending. Maybe there will be more about the situation in the coming books but other things went so fast and suddenly the book was over. Some serious happenings and discussions was never written, only explained after it had taken place. Like a side-note. I was just left hanging, wondering and feeling that it was not done. There is no cliffhanger to explain my feelings. But still it just felt incomplete.