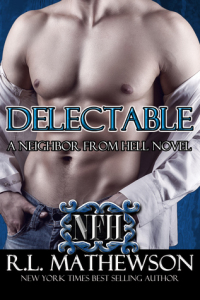 | GOODREADS | MY RATING: ♥ ♥ ♥|
Goodreads synopsis: Reese Bradford is a typical Bradford, he enjoys his food, is easy on the eyes, and has a killer smile, but there's one thing about him that he doesn't want anyone to know about, which of course is the first thing that his ex-fiance makes sure that everyone finds out about after she leaves him for his best friend. Out of options, he reluctantly heads out of town to spend the summer in the cottage that he'd rented for his honeymoon only to find himself tormented by a woman that never should have crossed his mind twice.
More intrigued than he'd ever thought possible, he can't help but wonder about the woman that made him smile.

My thoughts: I LOVED the characters. Absolutely loved them all. This is probably, so far, Mathewson's best character development, connections and familiarity she has written. Reese we have meet before, Kasey is a new and such funny character to get to know. Then Reese enters the picture and I must say the way he entered was so perfect, funny and captivating. Then we have my absolute favorite character, Mikey. Kasey's 10 year old daughter who with her quirky personality, it makes the whole book. It was also nice to meet some of the other characters from the earlier books.
But the plot however did nothing for me. It was kind of slow and bland. I have always found the food obsessions pretty funny and thought it would be a huge part in the book, since Kasey is a cook. But it wasn't. And the whole virgin thing? Come on! Can it be more cringe and flamboyant?
It kept balancing on the border between funny and immature. Some parts really was to much for me and they felt forced, so in the end, it wasn't good. And I certainly missed some groveling and the huge "explosion" between two of the characters that I really thought would come.
So over all, I loved the characters, not the plot and in total I did like the book.