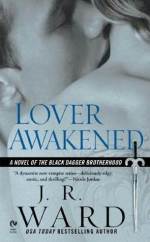 | GOODREADS | MY RATING: ♥ ♥ ♥ ♥|
Goodreads synopsis: In the shadows of the night in Caldwell, New York, there's a deadly war raging between vampires and their slayers. And there exists a secret band of brothers like no other – six vampire warriors, defenders of their race. Of these, Zsadist is the most terrifying member of the Black Dagger Brotherhood.
A former blood slave, the vampire Zsadist still bears the scars from a past filled with suffering and humiliation. Renowned for his unquenchable fury and sinister deeds, he is a savage feared by humans and vampires alike. Anger is his only companion, and terror is his only passion—until he rescues a beautiful aristocrat from the evil Lessening Society.
Bella is instantly entranced by the seething power Zsadist possesses. But even as their desire for one another begins to overtake them both, Zsadist's thirst for vengeance against Bella's tormentors drives him to the brink of madness. Now, Bella must help her lover overcome the wounds of his tortured past, and find a future with her…

My thoughts: You got to love those angst filled, save him, save her, type of romantic suspense books. This one is even in the paranormal category. I absolutely love the characters. I love how vulnerable they are even though they are vampires. They can easily be hurt or even die. I liked Bella a little less than I thought I would. She seemed so much older in the last book where you meet her. But she is a lot younger than you though and that shines through. In some occasion I liked it, in others not so much. Zsadist, gosh I hate the names in this series, was such a complicated character. He is deep with a lot of hurt in him. He is so far gone that even himself thinks he is a goner. But no, there is so much more in his core, just waiting and it certainly gave the whole book some serious depth. The history, memories and relationship with his brothers and friends certainly makes the book come alive and the building of future books is so greatly done. I did however not like Phury's part of the plot that much. But I do not need to get into that. I do hope, when I come to his book, that it will be a lot better than I feel it would be right now.
Overall this is a page turner. It is exciting, captivating and astonishing. very little predictability and a lot of questions who you get all the answers to. It ended just perfect, with happy tears and all. And no cliffhanger. 🙂