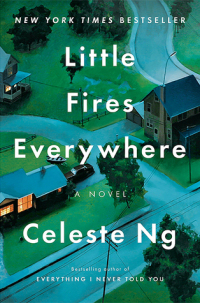 | GOODREADS | MY RATING: ♥ ♥ ♥|
Goodreads synopsis: In Shaker Heights, a placid, progressive suburb of Cleveland, everything is meticulously planned – from the layout of the winding roads, to the colours of the houses, to the successful lives its residents will go on to lead. And no one embodies this spirit more than Elena Richardson, whose guiding principle is playing by the rules.
Enter Mia Warren – an enigmatic artist and single mother – who arrives in this idyllic bubble with her teenage daughter Pearl, and rents a house from the Richardsons. Soon Mia and Pearl become more than just tenants: all four Richardson children are drawn to the alluring mother-daughter pair. But Mia carries with her a mysterious past, and a disregard for the rules that threatens to upend this carefully ordered community.
When the Richardsons' friends attempt to adopt a Chinese-American baby, a custody battle erupts that dramatically divides the town and puts Mia and Mrs. Richardson on opposing sides. Suspicious of Mia and her motives, Mrs. Richardson becomes determined to uncover the secrets in Mia's past. But her obsession will come at unexpected and devastating costs to her own family – and Mia's.

My thoughts: So…! First off, Ng is a phenomenal writer and I really liked her writing style. Under the storyline, she quite skillfully included a lot of symbolism and important themes, worth discussing. The writing was easy to read and had a soft and gentle, flowing feeling about it. Almost like waves on a beach. It was lulling in a way where you felt good while reading but didn't get tired or fall asleep by it. It was quite an eerie feeling to receive but at the same time it just felt so right.
First book read by Celeste Ng and though I did enjoy it, I had some trouble to really connect with it. I was reading, following the plot, but never really invested in it if you understand what I mean. I liked the way we got to follow several characters, there life and thoughts, bounded together around one main event and several smaller ones. I liked how it took place in the 1990's but unfortunately I wished that the ending would have been more satisfying. I liked several of the characters, understood some of the others and a few could just be left out in my opinion.
There is so much to discuss and talk about and I'm glad we opted for this one to be discussed in the book club I'm a member of. It is a perfect book for that kind of purpose.