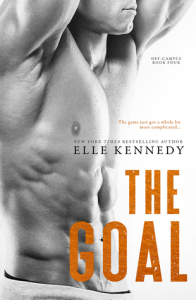 | GOODREADS | MY RATING: ♥ ♥ ♥|
Goodreads synopsis: She's good at achieving her goals…
College senior Sabrina James has her whole future planned out: graduate from college, kick butt in law school, and land a high-paying job at a cutthroat firm. Her path to escaping her shameful past certainly doesn't include a gorgeous hockey player who believes in love at first sight. One night of sizzling heat and surprising tenderness is all she's willing to give John Tucker, but sometimes, one night is all it takes for your entire life to change.
But the game just got a whole lot more complicated…
Tucker believes being a team player is as important as being the star. On the ice, he's fine staying out of the spotlight, but when it comes to becoming a daddy at the age of twenty-two, he refuses to be a bench warmer. It doesn't hurt that the soon-to-be mother of his child is beautiful, whip-smart, and keeps him on his toes. The problem is, Sabrina's heart is locked up tight, and the fiery brunette is too stubborn to accept his help. If he wants a life with the woman of his dreams, he'll have to convince her that some goals can only be made with an assist.

My thoughts:I liked but I didn't love it. Short, sweet but I wasn't really feeling it. Okay, I will give you that it is a nice story and as always filled with some really nice characters and a believable plot. But the way it was built and the slowness of it, didn't do much for me this time.
I like Sabrina. She is a tough cookie. She is just so set on the goal of her life and doesn't handle stuff well outside of that goal plan and some of her personality traits just rubs me the wrong way.  It is Tucker who does the whole story. Maybe because I already loved him before I started reading this one. And off course how am I not supposed to love him? He is just such a great man. Kennedy really has a gift with writing characters that does not feel needy or unrealistic.
I did enjoy it and it was nice to read something simpler since I have trouble with keeping my head in the reading mode right now. Note to self: Finnish one series before starting another written by Kennedy. That way you wont risk any spoilers on some certain details. 😉 Just saying.