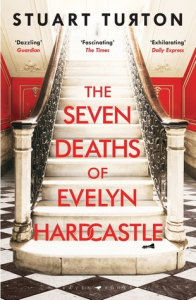 | GOODREADS | MY RATING: ♥ ♥ ♥|
Goodreads synopsis: How do you stop a murder that's already happened?
At a gala party thrown by her parents, Evelyn Hardcastle will be killed–again. She's been murdered hundreds of times, and each day, Aiden Bishop is too late to save her. Doomed to repeat the same day over and over, Aiden's only escape is to solve Evelyn Hardcastle's murder and conquer the shadows of an enemy he struggles to even comprehend–but nothing and no one are quite what they seem.
Deeply atmospheric and ingeniously plotted, The 7½ Deaths of Evelyn Hardcastle is a highly original debut that will appeal to fans of Kate Atkinson and Agatha Christie.

My thoughts: Oh, so many feelings. I was looking forward to be reading this. It intrigued me and when I started, it felt like a mix between a classic Agatha Christie, dinner murder mystery and the movies like groundhog day and the cube. This is one of those books that seem to be impossible to give a deserving rating to. It all depends on what I'm focusing on.
If I would rate the concept, writing skill and character build-up it would be a solid 5 stars. It is just perfect and such a joy reading. Even though we are talking about a lot of characters and a lot of details, it was still fully possible to keep track of them all. At some points I was a little confused to be honest, but Turton skillfully included small details here and there to remind us readers where we were and what it was about.
If I would rate the general plot and ending I would give it a two star. The build-up of the story was so big and thrilling that the ending was just an anticlimactic balloon, losing all its air. Not at all what I had expected and quite frankly a little tame when compared to the rest of the book. And in the middle I found myself stagnant due to that the story didn't progressed forward. And I didn't find myself that into it to be honest. Specially since you never really get to know the whole truth outside of Blackheath. I would have liked that.
Then that I also had such problem focusing can also be a reason for my conflicted feelings and low rating. I have had a couple of bad weeks but that is not unusual for me and if a book is good it will keep me captured either way. Anyway, after a lot of thinking and sorting my feelings I land on a solid 3 stars. If possible I would give it 3.5. I did like it overall, but I didn't love it and it certainly was not amazing in my opinion.