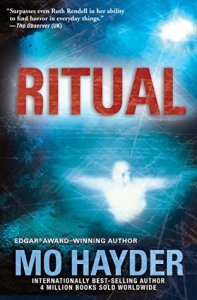 | GOODREADS | MY RATING: ♥ ♥|
Goodreads synopsis: Nine feet under water, police diver Flea Marley closes her gloved fingers around a human hand. The fact that there's no body attached is disturbing enough—until the discovery of the matching appendage a day later. Both hands have been freshly amputated, and there are indications that the victim was still alive when they were removed.
Newly seconded to the Major Crime Investigation Unit in Bristol, DI Jack Caffery soon establishes that the hands belong to a young man who has recently disappeared. As Caffery and Marley search for the rest of the victim—and for his abductor—they journey into the darkest recesses of Bristol's underworld, where drug addiction is rife, street kids sell themselves for a hit, and a disturbing occult ritual may be making an unexpected appearance.

My thoughts:
"… you have lost the touch with Caffery. He is a numb and stiff character, I no longer feel the love toward."
I'm sorry to say that this is not what you would expect after reading the two home runs before this one. I expected more and not start off with the feeling that I have missed something. The third book about Caffery, did not pick up where the second book ended and that was quite confusing because I did not understand what was going on. And it does take some time before you get to the part which explained it all. Specially since Caffery is the main character but he is written like a sidekick and you follow Flea more or less the whole book.
It is supposed to be a series about Jack Caffery, haunted detective, who tries not to break the rules but still find out the answer on a 30 year old "mystery" while still trying to solve the more fresh today "whodunit" cases. But in reality we are following Flea, a socially awkward, grieving woman who is depressed and keeps focusing on the wrong things which has nothing to do with the main plot. The main story and plot is pretty bland and boring. There is no excitement or the need to find out who did it and why. It started of pretty good with the introduction of Flea, but it never delivered in the end.
What happened, Mo? The pace is slow and in comparison to the two other books, you have lost the touch with Caffery. He is a numb and stiff character, I no longer feel the love toward. I feel disconnected, sad and I missed the page turning feeling.