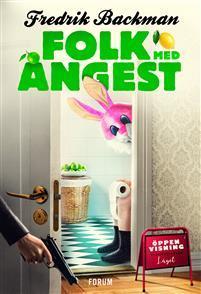 | GOODREADS | MY RATING: ♥ ♥ ♥ ♥ ♥|
Goodreads synopsis: "People with anxiety" is an unreasonably messy comedy about a hostage situation on an apartment viewing. A failed bank robber locks in with an over-enthusiastic real estate agent, two bitter Ikea addicts, a pregnant woman, a suicidal multi-millionaire and a rabbit head. Finally, the robber gives up and releases everyone, but when the police storms the apartment it is … empty. In a series of dysfunctional testimonies afterwards, we hear everyone's version of what actually happened, whereupon a classic puzzle mystery develops around the questions: How did the robber escape? Why are everyone so angry and what is wrong with people these days?

My thoughts:
"It makes you laugh, cry and love and in the end you sit with the feeling of complete satisfaction."
The newest book written by Backman is here. With its release in April it is unfortunately not yet translated to English but don't worry. I believe someone is already working on a translation to be publish. Backman is immensely big in other countries so it would surprise me if not.
The newest book is about a group of people I pretty much hated for like 60% of the book. They are obnoxious and extremely self-centered, angry and just unpleasant. Fortunately Backman is a king when it comes to writing deep characters with layers on layers. He knows how to captivate readers to a degree you feel like you put your own heart on the table and risk losing it. It is an immensely funny book but still has a serious undertone which make you feel all the emotions at the same time. He is good with captivating people and the human nature and it is the true, raw and brutal truth you recognize yourself in. The book offers some curveballs and surprises and if you are a weeper, you will probably cry at the end like I did. In the morning, 30 minutes before I was supposed to be at work. And it was wonderful.
The language is extremely beautiful, almost poetic without being pretentious and I do hope it's not lost in the translation. It makes you laugh, cry and love and in the end you sit with the feeling of complete satisfaction.
They did a great work with the film adaptation (IMDB) of En man som heter Ove (A man called Ove) and I do hope they choose to do a film from this book to. It will (I just know it) be perfection.