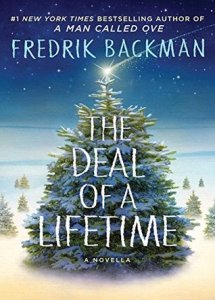 | GOODREADS | MY RATING: ♥ ♥ ♥|
Goodreads synopsis: It all begins with a father telling a story to his son on Christmas Eve. But this isn't your typical Christmas story. The father admits to his son that he's taken a life but he won't say whose—not yet.
One week earlier, in a hospital late at night, the man met a five-year-old girl with cancer. She's a smart kid—smart enough to know that she won't beat cancer by drawing with crayons all day, but it seems to make the adults happy, so she keeps doing it.
As the man tells his son about this plucky little girl, he slowly reveals more about himself: while he may be a successful businessman, idolized by the media and his peers, he knows he failed as a parent. Overwhelmed by the responsibility of fatherhood, he took the easy way out and left his wife and little boy twenty years ago to pursue professional success. Now he is left wondering if it's too late to forge a relationship with his son, who seems to be his opposite in every way—prizing happiness over money, surrounded by loving friends in a cozy town where he feels right at home.
Face to face with the idea that something is missing, the man is given the unexpected chance to do something selfless that could change the destiny of the little girl in the hospital bed. But before he can make the deal of a lifetime, he needs to find out what his own life has actually been worth in the eyes of his son. And so, he seeks him out and tells him this story…

My thoughts:
"Short story"
Sad story about the meaning of life, the choices we take and the people they affect. Filled with love, hate, happiness and sadness. All emotions crammed onto not even 100 pages. I'm glad it was as short as it was and my Fredrik Backman craving I have had the last days is finally saturated. And now I have officially read every book Backman has published so far and he is still one of my absolute favorite authors.