I'm really excited for my June To Be Read list. I have some good books here which I have high expectations for. Hopefully not to high. Three books that are continuing in series I follow and three books who are stand alone. The genres are a large mix between humor, contemporary, romance, chick lit, fiction, mystery, New adult, horror, thriller, sci-fi, and suspense.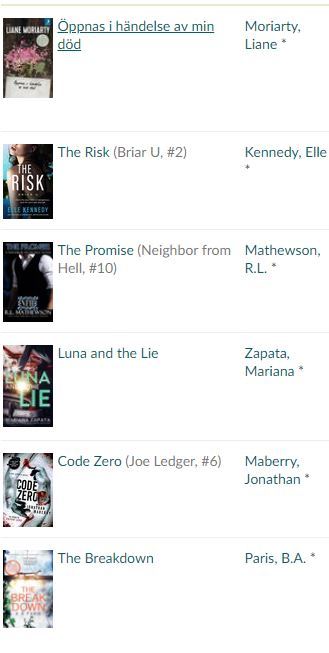 Liane Moriarty is a name I have seen circulating in the bookish community the last few years and this one "The Husband's Secret" is the one I feel I want to use to introduce Moriarty to me.
The Risk by Elle Kennedy is the second book in Briar U series. I usually love Kennedys books so I do not expect anything less.
The Promise by R.L Mathewson is the tenth book in her Neighbor from hell series. I love her books but lately they have been somewhat "flat". I hope "The promise" will bring the honor back.
Luna and the Lie. Don't know much about it more than I love Zapatas books and I don't even have to read the Synopsis to know I want to read her work.
Code Zero. The sixth book in the Joe Ledger series and staring my bookish boyfriend. He has finally found some happiness and I do hope Maberry didn't throw in another curveball.
The Breakdown. A book I have had on my bookshelf for far to long now. I feel it will be an angst filled book but I did bought it so once in a time I did want to read it. Now is the time
What are you planing on reading in the month of June?