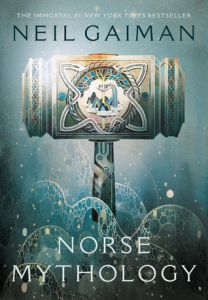 | GOODREADS | MY RATING: ♥ ♥ ♥ ♥|
Goodreads synopsis: In Norse Mythology, Gaiman stays true to the myths in envisioning the major Norse pantheon: Odin, the highest of the high, wise, daring, and cunning; Thor, Odin's son, incredibly strong yet not the wisest of gods; and Loki—son of a giant—blood brother to Odin and a trickster and unsurpassable manipulator.
Gaiman fashions these primeval stories into a novelistic arc that begins with the genesis of the legendary nine worlds and delves into the exploits of deities, dwarfs, and giants. Through Gaiman's deft and witty prose, these gods emerge with their fiercely competitive natures, their susceptibility to being duped and to duping others, and their tendency to let passion ignite their actions, making these long-ago myths breathe pungent life again.

My thoughts:
Norse Mythology is something I know quite a lot about. In Sweden we study the mythology and vikings from an early age. We even have a "Viking camp" we do in school, where we learn how the Vikings lived, hunted, cooked food and so on. I can't say I learned anything new by reading (audiobook) this book per say, but I have to say I really like the way Gaiman has put the tales to life. It is truly descriptive and beautiful in a way, I believe, everyone can enjoy. Neil Gaiman is also an fantastic narrator and perfect for reading his own books. I really enjoyed listening on him. It is also perfect for those who doesn't want anything heavy to read right now. It is a bunch of short stories, gathered together in one book. Light and easy. Perfect for those "in between" books.
I have to be hones and say that I first wasn't supposed to read it. Since I know so much about the topic, It wasn't anything that interested me to read more about. But a prompt in this years Pop Sugar Challenge was actually the reason to why I read it. The prompt was to read "A book inspired by mythology, legend or folklore" and when googling what book fits that prompt, Norse Mythology kept poping up. Now I'm happy that I read it. It is fun, light and familiar. Almost a little nostalgic and it woke something in me which have been buried since childhood and school was finished with teaching us kids about our heritage.