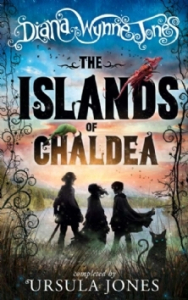 | GOODREADS | MY RATING: ♥|
Goodreads synopsis: Aileen was supposed to grow up magical – just like the other women in her family. Unfortunately, she's just found out that the magic seems to have skipped a generation… but that's not her biggest problem right now.
In her world, there are four Islands of Chaldea. The largest and most magical island has been cut off from the other three for decades – and is slowly draining the magic from them.
But now a prophecy has come to light. Someone from Aileen's island will gather a man from each of the three islands, bring down the magical barrier, and unite them with the fourth island again. And according to the king, that someone is Aileen's Aunt – who insists on dragging Aileen along. AND the boy Aileen is sure she'll marry (one day); the local boy with more brawn then brain. Someone seems to want to stop them too… someone with an interest in keeping the Islands apart. But still, with magic on their side, nothing can go wrong. Right?

My thoughts:
Okay, so I needed a book that was published posthumously so I could tick that prompt off in the 2019 PopSugar challenge. I had some trouble finding anything I wanted to read, but after some googling I eventually settled on this one. Written by Diana Wynne Jones and finished by her sister Ursula Jones after Diana's death. Apparently Diana was and probably still is, a famous and loved author all over the world. She wrote children's/YA books often with a Sci-fi and fantasy theme. I personally never heard about her before this, so I was going in completely blind with not much to expect.
Apparently, according to some of the reviews I have read, and I quote, "Ursula Jones did not do the justice of the potential of what this book could have been". I kind of agree with Xylia, whose quote I have included. I don't have anything to compare it with, but I agree that it doesn't feel that completed.
It started out okay with an interesting story and plot line. But in the middle it kind of fell apart, lost my interest and in the end I actually struggled to finish it. Perhaps a great book for a younger audience, but I felt It was supposed to be something more. And it just wasn't there. Kind of flat and two dimensional. Nothing I would recommend and unfortunately, nothing I liked very much.