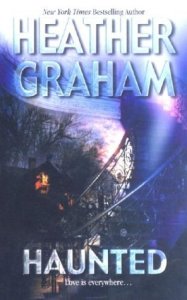 | GOODREADS | MY RATING: ♥|
Goodreads synopsis: Love is everywhere. . .
When does a gift become a curse?
Matt Stone doesn't believe in ghosts. But there are those who are convinced his home, a historic Virginia estate that dates back to the Revolutionary War, is haunted. Pressured to get at the truth about some strange happenings at Melody House, he agrees to let Harrison Investigations explore the house. But he isn't ready for beautiful, intriguing Darcy Tremayne.
As a paranormal investigator, Darcy has learned to believe in the unbelievable. And she's given Matt fair warning: sometimes people don't like the skeletons she finds. She never dreamed that the warning would apply to herself. For she's about to discover that Melody House holds much more than a simple mystery form the distant past. What it holds is a very real and lethal danger, one that will cast her into a struggle against the worlds of both the living and the dead.

My thoughts:
I have read a handful of Heather Graham books now and I so badly want to like them. It is stories I feel should be just right for me but I have to be honest with myself. Heather Graham is not an author for me and I need to stop wasting my time reading her books.
I can certainly see why her books are so popular and have the ratings it has. It just don't fit me. It is too easy, to broken, gullible, I always predicts the endings and most of all, I don't have fun while reading.
Before I started this book I wrote "I'm not yet ready to give up on her books because I really do like the stories". But now I am ready. I'm done! It does not mean that it is bad books. I can see the appeal. They do have everything you could wish for. An exciting story and a believable plot even though it is quite excessive. Diverse characters and nice world building but the writing is not on point.
I will now delete all the books on my kindle and hard disk and on Goodreads so I will never be tempted to start one of her books again. Because I will not waste my time with a book by her. Leave it to those who actually like her books instead. She deserves more than I can give as a reader.