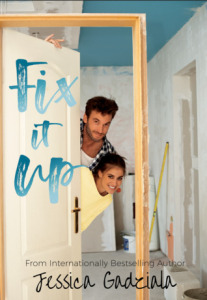 | GOODREADS | MY RATING: ♥ ♥ ♥ ♥ ♥|
Goodreads synopsis: "The chance of a lifetime. With one little catch."
All Brinley Spears has ever dreamed about since she completed design school four years ago was getting noticed. By the right people. By the right companies. Anyone who could finally help launch her career onto a new level.
Unfortunately, the opportunity comes to her in the aisle of a home improvement store while she was arguing with the world's most irritating contractor… Warren Reyes.
It was everything she ever wanted, the chance to star in HITV's hit show Fix It Up. There's one problem though. The producers think Brin and Warren are married. And want them as a pair… or not at all.
So, desperate for the opportunity she has always wanted, Brin hatches a plan. One fake marriage. One season of a show. And then they can both go their separate ways.
You know, if they don't kill each other first…

My thoughts:
Fantastic! For you who have not yet read Fix it up by Jessica Gadziala, doesn't know that the word "fantastic" is repeatedly written throughout this book. And it's a perfect word to describe it. Fantastic! Just utterly, rip out my heart and put it back in again, fantastic. I can't do anything other than recommend it. Specially if you are looking for something fun, light and easy with great characters, plot and some hot, sexy stuff. Start here.
It's an easy, lovable and funny book which is a little different from what Gadziala normally writes. But I like it. No, I Love it! It's refreshing and reminds me a little of R.L Mathewson who writs fantastic and funny romantic contemporary. It is nice to see that Gadziala, even though she is one of my favorite authors, isn't a one trick pony.
I love Warren and Brinley. Missed some more detailed descriptions of the characters and there were some grammatical errors even I could detect, but that was so small stuff that I don't even bother thinking about it.
Great stand alone and nice that not everything has to be a series. Gadziala is a queen when it comes to publish books and she writes faster than I have time to read. But in the end Fix it up, is just Fantastic.