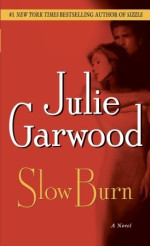 | GOODREADS | MY RATING: ♥ ♥ ♥ ♥ ♥ |
Goodreads synopsis: Every fire begins with a little heat–and in Slow Burn, bestselling author Julie Garwood provides the spark, skillfully blending pulse-pounding action, intense emotion, and characters with grit and heart. The result is an electrifying novel of romantic suspense that will have readers burning through the pages.
An unpretentious beauty who radiates kindness, Kate MacKenna doesn't have a bad bone in her body–or an enemy in the world. So why are bombs igniting everywhere she goes? The first explosion brings her face-to-face with a handsome Charleston police detective. The second sends her into the arms of her best friend's brother–a Boston cop who's a little too reckless and way too charming for comfort. But Dylan Buchanan won't let emotion prevent him from doing his job: Someone is trying to kill Kate, and Dylan is the only one standing between her and the monster who wants her dead.

My thoughts: Sometime you seek that kind of book, that gives you a feeling of comfort. That makes you want to settle down on the couch, in bed or in that favorite reading chair. With the biggest blanket (that you bought just to have when you read) with a big cup of beverage of your choice, and just stay there. The world outside does not exist and it is just you and your new friends. And for those brief moments, it all feels okay. Well, this is one of those books for me. And I hadn't really expect anything less since this is Julie Garwood. I know what to expect and I'm so happy that I got it. It was just what I needed. Garwood is an great writer in this genre and one of my favorite authors. And I always feel so good after one of her books.
Here we get to follow Kate. After her mother's death her life is starting to crumble around her. But she is a strong woman and refuse to give up. After she almost been blown up twice, in one week, Dylan Buchanan, Kate's best friends brother, comes to help find out what is happening. He is on leave from his work at Boston PD and since he always had strong, secret feelings for Kate, he can't let her fend for herself. The situation is intense and fireworks is going off right from the start.
This is a "typical" romantic suspense book. You pretty much know what is going to happen. Though I do not want to call it predictable. I couldn't early one foresee who the bad guy was in this book. It was easy to see why and there was no secret about the reasons, but it was not as predictable to find out who it really was. It was awesome.
It is a great book. Just what I needed. There is great characters, great development, great story and plot and the way it is unfolding feels real and suitable. There is never any cliffhangers and sometime you get to meet characters that have had bigger parts earlier in the series. Mostly I would say that you can read it as an stand alone. But if you are as OCD as me, I do not recommend it.