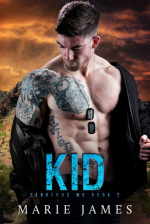 | GOODREADS | AMAZON | MY RATING: ♥ |
Goodreads synopsis: When Khloe Devaro's best friend and fiancé is lost to the war in Iraq, she's beyond distraught. Her intentions of joining him in the afterlife are thwarted by a Cerberus Motorcycle Club member. Too young to do anything on her own, the only alternative she has now is to take Kid up on his offer to stay at the MC Clubhouse. As if that's not a disaster waiting to happen, but anything is better than returning to the foster home she's been forced to live in the last three years.
Dustin "Kid" Andrews spent four years as a Marine; training, fighting, and learning how to survive the most horrendous of conditions. He never imagined that holding a BBQ fundraiser for a local fallen soldier would end up as the catalyst that turns his world upside down. Resisting his attraction for a girl he's not even certain is of legal age was easy, until he's forced to intervene when her intentions become clear. All his training is wasted as far as he's concerned since none of that will help him when it comes to Khloe.
Will the self-proclaimed man-whore sleep with a woman in every country he visits as planned, or will the beautiful, yet feisty girl living down the hall throw a wrench in his plan?
My thoughts: Terrible. Is it just me who is getting old and don´t find this type of books that believable and frankly, quite excessive. I mean, come on! It had all the potential to be good. Here you have a young, strong but broken girl/woman who lost her best friend and fiancé. Completely alone in the world and not yet old enough to do something about her situation, makes the depression a factor and the will to live not that strong anymore. In comes the good guy. The good hearted, good guy who just want to help. The guy who sees beyond the walls and layers of barbed wire. They fell in love and….. there it ends. The rest is just immature drama and not really exciting.
The story gets immature and sexually excessive. There is a lot of talk about the same thing from both Kid and Khloe. Then a situation happen and it all just gets worse. And nothing seems real for me anymore. And the whole sexual atmosphere is just to mature and don´t fit in with the characters and its just wrong. No! No, no no. I liked the first book, but this one, no. And quite frankly, I don´t even know if I want to read more of her books now.