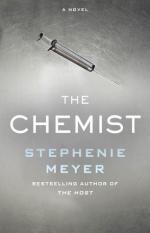 | GOODREADS | AMAZON | MY RATING: ♥ ♥ ♥ ♥ ♥ |
Goodreads synopsis: In this gripping page-turner, an ex-agent on the run from her former employers must take one more case to clear her name and save her life.
She used to work for the U.S. government, but very few people ever knew that. An expert in her field, she was one of the darkest secrets of an agency so clandestine it doesn't even have a name. And when they decided she was a liability, they came for her without warning.
Now, she rarely stays in the same place or uses the same name for long. They've killed the only other person she trusted, but something she knows still poses a threat. They want her dead, and soon.
When her former handler offers her a way out, she realizes it's her only chance to erase the giant target on her back. But it means taking one last job for her ex-employers. To her horror, the information she acquires only makes her situation more dangerous.
Resolving to meet the threat head-on, she prepares for the toughest fight of her life but finds herself falling for a man who can only complicate her likelihood of survival. As she sees her choices being rapidly whittled down, she must apply her unique talents in ways she never dreamed of.
My thoughts: Surprisingly good. A real page turner. I must say that I was skeptical at first. I loved the twilight series until the movies came and totally destroyed it all for me. I was not interested to read anything more from her again. So to read something new from this author was me, trying to have an open mind. And i´m so glad that I did because this book is really great.
The characters are strong and interesting and I really like the female main character. She is smart, witty, resourceful, strong and insanely brave. I liked the twists Meyers throw in the story and one in the end really surprised me and got me really mad. Until I remembered how it really was and then I was so happy instead. Good job. An emotional roller coaster and that she also trow in some dogs (i´m an insane dog lover) in the story as well had me on the edge of the seat until the last page was turned.
Great work. Great book. Have you read it?