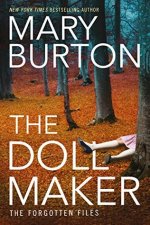 | GOODREADS | AMAZON | MY RATING: ♥ ♥ |
Goodreads synopsis: Dr. Tessa McGowan had never seen anything quite like it. But the mutilated bodies on her exam table tell a stunningly macabre tale: someone with a twisted mind is kidnapping women and altering their faces to resemble real, life-size dolls. As a forensic pathologist, it's her job to aid the agent leading the case—even if that agent is her estranged husband.
Twelve years ago an unspeakable tragedy destroyed Dakota Sharp's world. Haunted by the ghosts of his past, he's devoted himself to capturing killers. His only regret is that it cost him Tessa. Now, as the Dollmaker case brings them together—and raises his suspicions that he's crossed paths with this deranged psychopath before—they may just have their second chance. But it seems Dakota's not the only one who wants to make Tessa his own…
She may be the Dollmaker's next target, but Tessa has no intention of winding up as another toy on his shelf. Can she and Dakota stop this ghastly killer before his next deadly playdate?
My thoughts: If I remember correctly I did like (not love) the first book in the forgotten files series. But this one, who have a more exciting story, do not even get as far up as to like it. It is an average book. It did not bore me to death, but it also did not do that much for me. It´s kind of blaha for me. And that´s to bad. A book with that high rating and reviews should fall in my taste more than this one did.
The books story about the Dollmaker is actually kind of good. It is gross and makes you cringe. That however is the only ting. The killers story in the book makes no sense and how it all hangs together feels a little far fetched. There is no suspense in the hunt for the killer, Dakota feels real and human but Tessa does nothing for me. She is kind of gray and mellow. Not very exciting. And to bad that the book is to predictable. It could have been so much better.