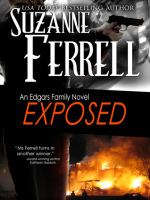 | GOODREADS | AMAZON | MY RATING: ♥ ♥ ♥ ♥ |
Goodreads synopsis: U.S. Marshal Frank Castello is on medical leave and feeling restless. While at his friends' wedding he finds himself attracted to Sydney Peele. Problem was, the cute, sassy blonde is the photographer for the weeding. Frank hates photographers. They're a hazard to his profession, especially when he's on witness protection duty.
Sydney Peele enjoys teasing the grumpy Marshal at her friend's wedding, even when the big, sexy man begrudgingly offers to take her home afterwards. Her pleasure is short lived when her home and life is literally going up in flames. Her brother had been staying at her home and there is no sign of him anywhere.
When Sydney goes into a state of frozen shock, finely honed instinct has Castello rushing her from the scene to safety at his home. A visit to the fire scene the next day confirms his suspicions when the firemen on the sight show them not only was it an arson case, but someone had guaranteed her home would be destroyed by adding in a bomb.
As Frank and Sydney search for answers about who might've started the blaze, questions arise about her brother, also a photographer. Was he responsible for the fire? Or has he exposed his sister to something far more sinister?

My thoughts: This is the fifth book in the series about the Edgars family and this last book is about Frank Castello. You meet Frank in the second book about Katie who is in the witness protection program. Frank is her handler and after that book he becomes one in the family but still is a little on the outside. So it was really nice to finally be able to read the book about him.
Frank is an grumpy man of few words. He loves his job and do it well, but he is kind of lonely (in my opinion). On a wedding in the family he meets Sydney. She is the wedding photographer and Frank heats photographers. When Sydneys home goes up in flames and her brother is missing, Frank can´t let his personal opinion to stand in the way to help a fellow human being. And then there is just full speed trough out the book.
And it is really good. I love Sydney who is a great character and she brings out more of Frank and the book is really funny sometimes. The book would have been a clear five star if it was not for the loose ends and questions I had in the end. No cliffhangers but it was just some small thinks that made the story unfinished. According to Ferrells answers on Goodreads, she will write more about the Edgars family in the future, but it may be some changes to series and what nots. So i´m really excited about that.