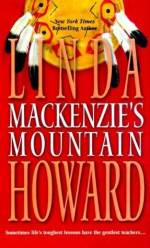 | GOODREADS | AMAZON | MY RATING: ♥ ♥ |
Goodreads synopsis: A small Wyoming town is about to learn a few lessons from a new schoolteacher with the courage to win the heart of a man who swore he had nothing to give….
Mary Elizabeth Potter is a self-appointed spinster with no illusions about love. But she is a good teacher and she wants Wolf Mackenzie's son back in school. And after one heated confrontation with the boy's father, she knows father and son have changed her life forever.
Still paying for a crime he didn't commit, Wolf Mackenzie has a chip on his shoulder the size of Wyoming. But prim-and-proper Mary Elizabeth Potter doesn't see Wolf as the dangerous half-breed the town has branded him. Somehow she sees him as a good, decent, honest man. A man who could love…
Wolf's not sure he or the town of Ruth, Wyoming is ready for the taming of Wolf Mackenzie.

My thoughts: I'm so disappointed. I did not have any high hopes for this book but I generally like Howards books even if it is almost as old as me. But here it just did not go all the way. The book it self is predictable and the characters not that great. Wolf and his son is like the same character with the same voice. And it frustrating me like hell that they keep talking about that they are Indian and half breed and the racism. I understand that, i do, but it is the same thing through out the book and nothing with it is an eye opener or that could help me as an reader and non Indian understand how it actually really is. It dose not explain anything. It is just words and excuses for them to not do anything about there situation. They feel sorry for them self and the excuses just poring out.
The book is also kind of boring and riddled with cliches that makes me cringe. No. This was not a great book and not a book I would recommend. I give it a 2 in rating just for the humor in the book and that the first 40 % of it actually was really good.