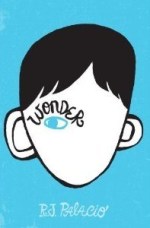 | GOODREADS | AMAZON | MY RATING: ♥ ♥ ♥ ♥ ♥ |
Goodreads synopsis: I won't describe what I look like. Whatever you're thinking, it's probably worse.
August (Auggie) Pullman was born with a facial deformity that prevented him from going to a mainstream school—until now. He's about to start 5th grade at Beecher Prep, and if you've ever been the new kid then you know how hard that can be. The thing is Auggie's just an ordinary kid, with an extraordinary face. But can he convince his new classmates that he's just like them, despite appearances?
R. J. Palacio has written a spare, warm, uplifting story that will have readers laughing one minute and wiping away tears the next. With wonderfully realistic family interactions (flawed, but loving), lively school scenes, and short chapters, Wonder is accessible to readers of all levels.

My thoughts: What a heartwarming, sweet little book that I´m so happy I got to read (or actually listening on). The book is funny, sweet and makes you laugh and cry. Little to many cliches and the book is a little to fluffy sometimes but it is still a really great book.
We meet August. A boy born with a heavy facial deformity. He is starting a regular school for the first time and the book is about him, his first year, his friends, his enemy's, his family and his family's friends. We get to see and learn about August from all the people around him.
The book takes on the hard topic about being different and struggling in a world there everyone is suppose to be perfect. There is bullying, hard words, the struggle to fit in and the struggle to be a good person. The struggle to be brave and the happiness in being original and just your self.
Me myself got a huge flashback to my early school years trough this book. I was bullied a lot in school and had low self esteem. Hardly any friends. The desire to just fit in was big. The book brought it all out. I was August when growing up. I was his friends and his sister and the feelings I long ago forgotten started poring back. I think that is a huge reason to why I love this book, since I in some ways can relate with August even though I don't have a disability. I can relate, understand and now as I´m an adult I can see that I have come really far from that small, scared little girl I once was. And it gives me the hope that everything is possible and if we all could look outside off our self, books like this wouldn't be needed.
I love the book. And yeah i do agree with some of the reviews on goodreads that just being disable in any way do not make you great och deserves a medal. But I think some of them do not think that this is a more of a children book. It is suppose to have a happy ending. It is suppose to take up a hard topic in a way that i child can understand. It is supposed to show that great tings happens to great people and to be kind and open toward others.
In November the movie about August is having its premier. Me of course is gonna see the move and I'm totally gonna remember this one and read this for my future children.
Have you read the book and what did you think about it?