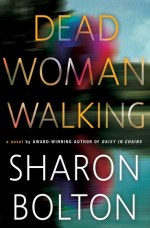 | GOODREADS | AMAZON | MY RATING: ♥ ♥ ♥ ♥ |
Goodreads synopsis: In Dead Woman Walking, from master of suspense Sharon Bolton, the sole survivor of a hot-air balloon crash witnesses a murder as the balloon is falling.
Just before dawn in the hills near the Scottish border, a man murders a young woman. At the same time, a hot-air balloon crashes out of the sky. There's just one survivor. She's seen the killer's face – but he's also seen hers. And he won't rest until he's eliminated the only witness to his crime. Alone, scared, trusting no one, she's running to where she feels safe – but it could be the most dangerous place of all…

My thoughts: This book was hard to rate and i´m gonna tell you why. At first I thought this was a book by Sharon Sala. But when I started reading something was off so I looked it up and found out that this is no Sala book. It is a Bolton. I just confused the names. And no worries because I actually like Bolton more than Sala. I have read her Lacy Flint series and really liked it. Funny that I could detect that this was not a Sala book. Anyway, when that misunderstanding was out of the way I could really start reading. And i did. And did. And my god, the book is so slow. I mean, turtle on a snail, slow.
Then after 50% it started to pick up but it is still slow. Nothing really makes sense and it feels like you as a reader are missing several important clues. I even reread some pages because I was certain that I was missing something.
Then at 70% it really started to pick up and the rest was just one curve ball after another. One twist after another and the truth is finally making some sense. It even made me gasp and say "NO WAY" out loud so Mr M thought I had company in the living room. (In one way I did but not the way he thought.)
So the book went from a two star rating to a five star rating. But, and here is the but! It was to slow and now when I´m done I feel that Bolton did leave out to much so now after, I can see how much holes there is in the story. The writing was also a little bit off. But overall it is a great book and a great story as long as you are a patient reader and it deserves a four star rating by me.
And one last thing. I´m glad this one is not a series becalms i don't know if I could take one more book like this. I hope not her other books are like this. Her Flint series was not.