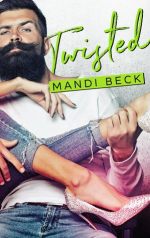 | GOODREADS | AMAZON | MY RATING: ♥ ♥ ♥ ♥ ♥ |
Goodreads synopsis: Three friends walk into a bar . . . One walks out the fake girlfriend of a hot, bearded Scotsman.
Fannin McGuire is up for promotion at Tate and Cane Enterprises, but first she has to make it through her stepsister's wedding. To Fannin's ex. Yep. Her ex-fiancé is about to be her new brother-in-law. One big happy family. And lucky her, she also gets to work with him.
While Fannin is putting all of her energy into her career, her ex is putting all of his energy into making her life hell. Just when Fannin is sure she'll be attending the wedding without a plus one, in walks Jasper James to save the day. He's the bartender at the Iron Flask, the account she's trying to land, and everything she didn't know she needed or wanted. Before Fannin knows what's happening, Jasper is playing knight in shining armor and she likes it. And him. A lot. With his smooth Scottish accent, ridiculously good looks, and that beard? She doesn't stand a chance.
Jasper isn't in the habit of rescuing anyone. But when Fannin is confronted by her ex about her lack of a date for his upcoming nuptials, Jasper can't help but step in. Her wild hair, violet eyes, and killer legs have him doing a few things he normally wouldn't. Never mind that he shouldn't be getting involved with the woman in charge of making the bar a global success.
Their fake relationship becomes more real than either thought it would. Now they're at the mercy of their feelings when truths are twisted, and the lies don't taste as smooth as the whisky

My thoughts: This was so great. I mean, it was funny, sexy as hell and an exciting story. My only complain about it is really that it was way to short. I want more. I wanted the time to really get to know Jasper and Fannin. I wanted the time so that Fannins ex really could get that "up yours" because what a prick. I did not feel satisfied with it all. It just was to short.
But if we not are focusing on that, the book it self was great. Great writing which is easy and flowing. There is humor and the way it is written just makes you smile trough out the book. The author did a great job and if it was at least 100 pages more I would be so happy. The first sex scene was a little to much for me but I just skim read that part.