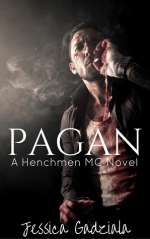 | GOODREADS | AMAZON | MY RATING: ♥ ♥|
Goodreads synopsis:
Pagan-
Fighting. [email protected] [email protected] things up. That was my life. That was how I got out of the world I had been raised in. And it was how I intended to keep living my life.
That was, of course, until I came across her. The game changer.
Kennedy-
Hard work. That was pretty much all you could say my life consisted of. It was what got me out of a rough childhood. It was what made me get my first taste of success. Before things went to hell, that is. But it was what was going to get me back on my feet too. So I didn't need any distractions. Certainly not one that came covered in scars, blood, leather, and in a cloud of cigarette smoke.
Yet, there he was.
And I was thinking maybe a distraction wouldn't be that bad, right?

My thoughts:
My biggest problem with this one is that I totally did not connect with either Pagan or Kennedy. I really did not like Pagan at all. Kennedy was somewhat nice. A girl I probably could have connected with if it was not for that the book was kind of superficial.
As you probably now by now, I love Gadziala and her books. But I do not love every book by her and this is one of them. It felt forced and superficial. Not even the "dark things" was that dark. It took me like 50% before I started to like the book and then it was suddenly over. It all was just a little to easy and a little to perfect.
Dont get me wrong here. I do love a happy ending and I do not want to change that. But the road to that ending dont have to be as fluffy, easy and perfect all the time. Yeah there are happening some "dark" stuff but it all it´s fixed a little to easy.
Maybe I´m not giving the book justice here. Maybe I´m still fucked in my head, since I read the book by Karin Slaughter. Maybe I need some time. Get my head on straight again.
Oh well. One great thing about the book though is that I have started to learn to know some of the new characters and oh my. I see some really good books in the future.