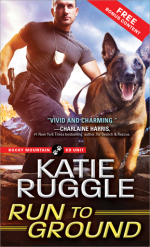 | GOODREADS | AMAZON | MY RATING: ♥ ♥ ♥|
Goodreads synopsis: He lost his mentor.
He lost his K9 partner.
He almost lost his will to live.
But when a ruthless killer targets a woman on the run, Theo and his new K9 companion will do whatever it takes to survive—and save the woman neither can live without.
Grieving the death of his partner, Theo Bosco has no room in his life for distractions. Though his instincts scream that he should avoid Juliet 'Jules' Jackson, he can't seem to stay away. It doesn't help that Theo's new K9 companion has fallen head over paws with Jules's rambunctious family.
Or that when he's with her, Theo finally knows peace.
When Jules rescued her siblings, whisking them away to the safety of the beautifully rugged Colorado Rockies, she never expected to catch the eye—or the heart—of a cop. Yet as Jules struggles to fight her growing attraction to the brooding K9 officer, another threat lurks much closer to home…
And this time, there's no escape.

My thoughts: I dont know what I expected and had a pretty much of an open mind before I started this book. It is a new series from an author I totally fell in love with earlier last year. I loved that her first series all hang together but still was like stand alones. And even this series is based out in the Colorado mountain. You just get this warm, fuzzy feeling when you read her books. She makes everything come alive and it is like you are there. I can really see the mountains, feel the sun and everything that is around it.
The story however I did not feel for this time. It was no big things really that can give me a concrete reason to why I not liked this book more than a three star rating. It was just a lot of small stuff that made the story not as great as it could have been.
I felt that it was somewhat wordy and repeatedly. The dynamic between Theo and Jules was not as natural as it could have been. And it is pretty irritating that the same words was used to describe his mood and her fright all the time. If you dont have any words left to describe something, you have probably described it to often and it is time to say stop, that is enough. We get it.
I do have to say that I really liked the twist that started up in the end. It was some what predictable but I still liked it because it was a little different from what you first would expect.
There will be more books in the series and even tough this first one not was a top favorite, I still like her books and story's and I will read more by her. 🙂