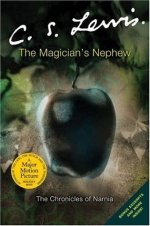 | GOODREADS | AMAZON | MY RATING: ♥ ♥ ♥ ♥|
Goodreads synopsis:When Digory and Polly are tricked by Digory's peculiar Uncle Andrew into becoming part of an experiment, they set off on the adventure of a lifetime. What happens to the children when they touch Uncle Andrew's magic rings is far beyond anything even the old magician could have imagined.
Hurtled into the Wood between the Worlds, the children soon find that they can enter many worlds through the mysterious pools there. In one world they encounter the evil Queen Jadis, who wreaks havoc in the streets of London when she is accidentally brought back with them. When they finally manage to pull her out of London, unintentionally taking along Uncle Andrew and a coachman with his horse, they find themselves in what will come to be known as the land of Narnia.

My thoughts: I cant believe that I never have read any of the books in the Narnia series and when my mind finally discovered this, I thought that I should listening on them. They all do exist in my languish in the app Storytel that I pay for. I do prefer to listening on books in my own languish even though I prefer to read on English.
I did not know that there is two orders to read the books on. Either you could read in the publish order or in the order they are suppose to be. I decided for the later and that makes this book number One in chronological order, but really is book number 6 in publication order. Confusing right?
It is a good book and it is really funny to read about the beginning of Narnia. I have, as most people, seen the newest movies but cant remember that you get to know how Narnia first is discovered and how it came to be. Where the witch started and so on. This book is about the beginning. And it was great.
Torsten Wahlund, who is reading the book, is doing a great job with the characters. Specially Andrew Ketterley, who you really dislike from the very beginning.
I cant however give the book a full five star rating. This because I did not feel the magic. My heart did not pump any faster or my mind only thinking on what will happen next. I can see the good for what it is, but it is not great. Not in my opinion.