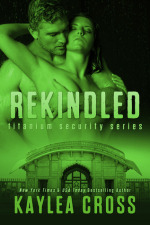 | GOODREADS | AMAZON | MY RATING: ♥ ♥ ♥|
Goodreads synopsis:He left her when she needed him most…
Four years ago, Dr. Grace Fallon lost everything that mattered in a terrorist attack she barely survived. Now she's stronger than ever and in Pakistan with a UN-sanctioned team for the most important assignment of her career. She's dedicated her life to eradicating the world of chemical weapons, and long ago accepted the inherent risks associated with her job. Until the man whose memory has haunted her for so long suddenly reappears and inadvertently makes her the target of one of the most dangerous terrorists on the planet. Forced to accept Alex's protection, it's impossible to deny the white-hot attraction still burning between them. And while she trusts him to guard her from this new threat, Grace must once again decide whether to risk her heart to the man who once shattered her entire world.
Now he'll risk everything to win her back…
Four years ago, NSA agent Alex Rycroft left Grace because had no choice. But never again. Malik Hassani has escaped custody, he's on the run, and has locked onto Grace as a means to target Alex. This time Alex will do whatever it takes to protect her—and convince her to give them another chance. Walking away from her nearly destroyed him and now that she's back in his life, he can't let her go. When the unthinkable happens and Grace's life hangs in the balance, he'll sacrifice everything to save her—including himself.

My thoughts: I'm glad I finally got the chance to learn more about Alex and his history. He is the oldest character in the books and the most mysterious. I really liked the plot but it was somewhat slow written. And I feel that in a situation as the 5th book is taking place, should not be slow. At all! I did however like that I got to know how it would go with Dunphy. The 4th book quite ended on a cliffhanger when Dunphy regarded. It was hard to read but with a great end. Perfect when it comes to the circumstances.
Alex end Grace though  is quite slow and some what repeatably. Grace is hurt and I understand that but then they dont really talk about it. It just "fixes" itself and that was an downer.
The story about the terrorist is as exciting as ever. Cant say to much about it without giving out spoilers.
There is one more book in the series. It is an short book on 160 pages and more or less suppose to wrap any loose ends. I have read the five books in the series and will at some point in the future read the last one to. Just to be done. But I dont really feel the need to it. This book did not end on any cliffhangers and what ever question i sit left with is not that important to get an answer to. But I will still read it.