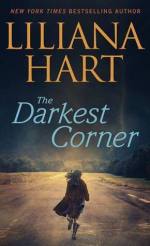 | GOODREADS | AMAZON | MY RATING: ♥ ♥ ♥|
Goodreads synopsis: The Gravediggers aren't exactly what they seem. They're the most elite of the world's fighting forces—and all they have in common is that they've been betrayed by the countries they've died for. Because they are dead. To their country, their military, and their families.
Sometimes the dead do rise…
Deacon Tucker is a dead man walking. A former black ops agent, he was disavowed and stripped of all honor before being recruited as a Gravedigger. But his honor and good name no longer matter, because no one knows he's alive, and he'll never get the recognition he deserves. His mission is simple: save the world or die trying. And for God's sake, don't ever fall in love. That's a rule punishable by death. The kind of death a man can't be brought back from.
Tess Sherman is the only mortician in Last Stop, Texas. She has no idea how Deacon Tucker ended up in her funeral home, but she'll eat her hat if he's only a funeral home assistant. Deacon is dangerous, deadly, and gorgeous. And she knows her attraction to him can only end in heartache.
Deacon is on a mission to stop the most fatal terror attack the world has ever known—what's known as The Day of Destiny—a terrorist's dream. But when he discovers Tess has skills he can use to stop them, he has to decide if he can trust her with secrets worth dying for. And, most important, he has to decide if he can trust her with his heart.

My thoughts: Okay book. I liked bits and pieces of it. But it was not an great book and frankly , i'm a bit disappointed. I have read like 13 books by Liliana Hart and for the most part I have really liked them. She writes characters who are fun, quirky and really lovable and you cant not love the male heroes. They are awesome. But there is nothing of that in this one.
Somewhat repeatable. Specially about Tess's temper, read hair and white skin. About Deacons "undead" life and past. There is no real explanations to WHY Deacon is where he is and they all is a little boring. The only character that actually did anything for me was Eve and I completely loath her. So yeah.
I'm not even sure if I will bother to read the next book in the series. Since I have read so many books by Hart and know what she is capable to do, I feel thorn. Should I risk wasting time on another mediocre book or should I risk missing one great story?