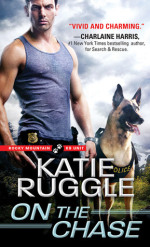 | GOODREADS | AMAZON | MY RATING: ♥ ♥ ♥ ♥ |
Goodreads synopsis: After witnessing a horrifying crime, Kaylee is forced to flee to a small Colorado mountain town and take on a new identity. There she becomes Grace, a dog kennel worker trying to avoid the dangerously attractive K-9 Officer Hugh Murdoch.
When an accident leaves Hugh and his K-9 partner, Lexi, on desk duty, both are anxious for Hugh to heal. Until then, the highlight of his day is teasing the beautiful but mysterious new kennel employee. Their simmering attraction fuels a passionate kiss—interrupted by a sniper's bullet. With targets on both of their backs, Grace and Hugh will do whatever it takes to stay alive…not realizing the most dangerous threat of all is hiding right in front of their noses.

My thoughts: I'm having a super great start on the new year with an other really good book. This one is about Kaylee who has to run for her life after witnessing something she should not have witnessed. At her new town she meets Hugh. We met him in the first book "Run to ground". This is an series and you should really read that book first before you read this one.
I really, really liked this. Much better than the first book in my opinion. But then again, I'm a sucker for story's with strong women's who have to run for their lifes, are terrified, but still meet that perfect guy, who sweep them of there feets and in the end "Saves" them.
Kaylee is a little of an "Princess" but only on the surface and when you really get to know her, she is an really down to earth person I just love. And Hugh. O my, he is funny, really funny and sweet and just great. You do know that I'm still talking about fictive people here right. Haha. But the characters are great and even if I did not like the first book as much as this one, it was nice to meet all the characters again and get to know them more.
Anyway. The book is great and I can strongly recommend it, but you need to read the first book first. 🙂