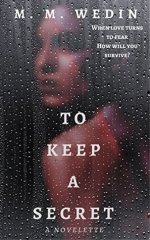 | GOODREADS | AMAZON | MY RATING: ♥ ♥|
Goodreads synopsis: A well needed week away from the mainland sounded like a great idea. But this innocent trip to a private island won't end as well as it began. Tracy finds herself in a situation she could never have imagined as she gets to know the secrets of her love – Ryan Bailey.
The question is: when love turns to fear, how will you survive?

My thoughts: I got this book from the author against a honest review, and even though I'm not much for short stories, the synopsis intrigued me and I wanted to give it a shot. I feel a little bad that I did not find this book as great as those others at GoodReads find it, but that's the thing, we all do not like the same thing and that is a good thing. Right? Anyway, I will explain my thoughts about this book.
First of, I really like the cover. It gives the viewer (me) an eerie feeling and it is matching the story. The title of the book though makes no sense compared to the story. Who is keeping a secret and you can't keep a secret you don't know about? Right?  Anyhow, this is a book in the genre horror/thriller, but I personally feel that it is more Thriller than Horror. Specially since all the horrific stuff happens when our protagonist is elsewhere. So you do not get to know about it until it is done and done. There was however one part of the book that really made me cringe and that is an indicator of good writing. One other thing I also liked is that the author makes it clear already on the cover that the book is an short story. Not all do that and I hate to by a book and then find out it is just shy of 100 pages.
The story felt a little forced to me. It was stuff that just didn't make sense. Like for an example Ryan's history or Tracys history for that matter. You do not get to know the characters as much as I would like and the storyline is, by that result, somewhat broken. The other characters in the book are not that interesting either, but really could have been. I would have loved to get to know some things more deeply. What really happened then and what happens now?
I'm aware that the story is told after the fact that it already happened and it may explain the broken pace. And it is just so short, and I really would expect more fight from the protagonist than it was. 
The storyline is intriguing and the characters could be really great. Just a little more time and work in the backstory and a little longer I think it would be a lot better. I can see that Wedin has the knowledge to write and writes really well. It was easy to read and understand and I feel that the book can suit several different type of people. Even if this one not was one in the top for me, I do like her way of writing and she has another book, that also is a little longer, that i'm looking in to.