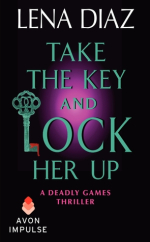 | GOODREADS | AMAZON | MY RATING: ♥ ♥ ♥ ♥|
Goodreads synopsis: Lena Diaz returns with another sexy, thrilling Deadly Games novel and the darkest question of all: What do you do when your freedom could cost you your life?
Detective Emily O'Malley just stumbled upon a killer's lair—and the remains of a woman he kept locked away for years. But this killer isn't done yet. More women are missing, and all clues point to Devlin Buchanan—the man who seems to know just a little too much. Emily's instincts are rarely wrong, and now they're telling her this sexy, mysterious man is hiding something big …
As a trained assassin for EXIT Inc—a top-secret mercenary group posing as an international tour company—Devlin "Devil" Buchanan isn't afraid to take justice into his own hands. But when the hot new detective on his trail gets too close to the organization and a contract is placed on her life, Devlin does the only thing he can: he turns rogue agent and kidnaps her to save her life.
With EXIT Inc closing in and passions running hot between them, Emily and Devlin must work together to find the missing women and clear both their names before time runs out … and the key to freedom is thrown away.

My thoughts: I have not read that much by Diaz. Only this series and this book is the last one (as I understand it) in the series Deadly Games. I loved the first three books and they all got top score by me. These books are old fashion, romantic suspense that makes you want to stay home from work, sit in your reading nook and do nothing but read all day and night. That is how good these books have been. I must, however, say that I was a little disappointed on Diaz with this one. The story is awesome as always but I do not like the ending.
Well, it ended the only way it could have ended and that is fine. I'm satisfied by that. But since this is the last book, it should not have been as many questions (tough small) left for me as a reader. It should not imply that you will get all the answers if you start the series EXIT and then you read the synopsis about the first book in the EXIT series and there is nothing that implies that you will get your answers.
However, if you can ignore that those small questions won't get any good answers, the book is awesome and I love all the characters. I love the story and I love how strong and fierce (in the right way) the female character is. It is just so good and I can't say anything other than these books are so worth reading if you are a romantic suspense junky as I am.