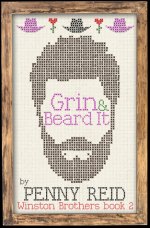 | GOODREADS | AMAZON | MY RATING: ♥ ♥ ♥ ♥ ♥ |
Goodreads synopsis: Sienna Diaz is everyone's favorite "fat" funny lady. The movie studio executives can't explain it, but her films are out-grossing all the fit and trim headliners and Hollywood's most beautiful elite. The simple truth is, everyone loves plus-sized Sienna.
But she has a problem, she can't read maps and her sense of direction is almost as bad as her comedic timing is stellar. Therefore, when Sienna's latest starring role takes her to the Great Smoky Mountains National Park she finds herself continually lost while trying to navigate the backroads of Green Valley, Tennessee. Much to her consternation, Sienna's most frequent savior is a ridiculously handsome, charming, and cheeky Park Ranger by the name of Jethro Winston.
Sienna is accustomed to high levels of man-handsome, so it's not Jethro's chiseled features or his perfect physique that make Sienna stutter. It's his southern charm. And gentlemanly manners. And habit of looking at her too long and too often.
Sienna has successfully navigated the labyrinth of Hollywood heart-throbs. But can she traverse the tenuous trails of Tennessee without losing her head? Or worse, her heart?

My thoughts: I'm in love. Yes I am. I'm in love with Penny Reid. And even though i'm straight I can totally appreciate beauty. Specially if you have the beautiful gift of writing. Which Reid totally has. And it is so obvious in this book.
I'm that kind of reader who makes faces when I read. I smile, frown, I cry and even look bored if the book is boring. But I do NOT laugh out loud, hardly ever cry so that other notice, gasp or talk to the book and the characters. Do you still follow me here? Okay… but this book started with me laughing out loud. Yes. I was like 4 pages in, it was 06:22 am in the morning and it totally made me laugh and I was hooked there and then. The book is highly funny in this sarcastic, in your face, type of way and I totally love it.
I have read one book by Reid earlier (the first book to this series, this one is the second). And even though I really liked it, I did not LOVE it. Not like I love this one.
The characters is just wonderful and it is nice to really get to know them more. Cletus (who is not the main character in this book) has such a big part and you can't do anything other than loving him, and looking forward to his own book. Sienna is wonderfully quirky, funny and has like "joke diarrhea" which is funny as hell. Jethro is this dark, brooding type of man who is trying to make amends for his past and make everything right by his family and friends. He is open, funny and lovable if given the chance and him and Sienna really match each other perfectly.
I thought, half way through the book, that some shit would happen and you would get this tense, anguished and mentally exhausted part, but it never came and it was so uplifting that Reid not followed the mainstream way, that seems to be dominating in this types of books. And that just made it all that much better.